Pizza Wheel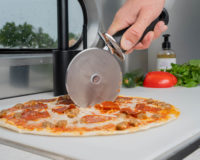 Slice through toppings with ease with the OXO Good Grips 4" Pizza Wheel. Its sharp stainless steel blade cuts through crunchy crust, and is large enough to accommodate Sicilian and thick-crust pizzas. A die cast zinc thumb guard keeps fingers away from the blade for added safety, and the large, soft handle absorbs pressure.
Soft-Handled Can Opener By OXO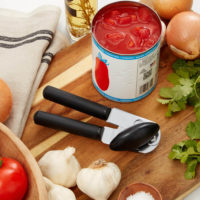 One of the best things about graduating from tent camping to Airstream camping is that you'll never have to worry about forgetting a can opener – but you have to add this essential to your galley drawer first. We love OXO, and their Soft-Handled Can Opener has big, cushioned handles and an oversized knob that turns easily, taking the hard work out of opening cans. The sharp cutting wheel is made of sturdy stainless steel. Also features a built-in bottle opener.