The YouCopia StoreMore Rack loves to store, organize and protect dishware from bumps and bounces (no stacking required). Six adjustable dividers keep all your favorite plates and bowls vertical and visible, and a center slot stops them from rolling around. Whoever said you can't take your best dishes on the road?
An Airstreamer-approved Organization Solution for Your Dishes
We worked with Airstream Ambassador and organization expert Traci Miller to create curated Airstream Storage Solutions that will work for just about any Airstreamer. One of the most exciting pieces in our Storage Solutions collection, this Airstream StoreMore Roof Locker Dish Rack by YouCopia takes one of YouCopia's most innovative pieces – one that's normally used to store heavy cookware in the home – and puts it to use as the perfect dishware rack for your home on wheels. Strong enough to hold cast iron cookware, the Airstream StoreMore Roof Locker Dish Rack by YouCopia will keep your dishware safe on the road – and help keep everything intact for when you arrive at your campsite.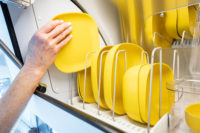 We love YouCopia for the way they create stylish and smart solutions to help you live simply. Their durable, beautiful, and functional storage pieces offer inspiration for an effortlessly organized space, and this Kitchen Roof Locker dish lives up to YouCopia's mission statement. Keep your dishes safe, secure, and protected during transit with this essential item for your Airstream galley.
Features
Dimensions (L x W x H)