Warm, stylish – and full of hope
This slouchy beanie style is available in 3 colors: mint, black and oatmeal.  Contains different colored knitted threads for a confetti feel, with a leather Headbands Of Hope label.  For every item sold, a headband is donated to a child with cancer.
The dream
Headbands of Hope founder Jess Ekstrom exudes positivity. She founded her business while still living in her college dormitory.
"I was a summer intern at a wish-granting organization for children with life-threatening illnesses," says Jess. "After losing their hair during chemotherapy, children were offered wigs or hats. But these kids weren't interested in hiding their experiences; they wanted something that could restore their confidence after their hair loss."
She saw kids wearing headbands and had a brainstorm. Jess decided to start a business that would, as part of its mission, provide young cancer patients with that confidence.
Since its founding, Headbands of Hope has donated over 350,000 headbands to young people across the US. Kids in every children's hospital in America wear their products. The company has also delivered headbands to children in 15 other countries.
Now, Jess and her husband Jake are looking to expand the physical reach of Headbands of Hope. They've decided to hit the road on a tour and will be living and working out of their new Airstream full-time.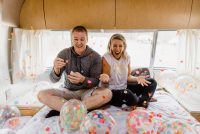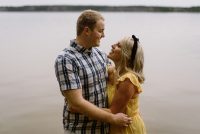 Spreading hope
In the Fall of 2019 Harper Collins will publish Jess's first book, Chasing the Bright Side. Drawn from her experience starting a successful business and finding success by following her interests and passions, Chasing the Bright Side is an inspirational look at how anyone can find positivity from within.
"It's about how to use optimism and postive thinking to turn adversity into opporutnities for growth and positive impact," says Jess.