We always keep a pair of Kobolt Work Gloves in the Airstream storage compartment. When you need a warm, dry work glove, HESTRA's Kobolt line delivers incredible warmth, supreme dryness, and great sensitivity in the fingertips. Even with thick, protective fingers, the Kobolt still allows for fine motor skills necessary for hitching, setting up stabilizing jacks, and placing wheel chocks.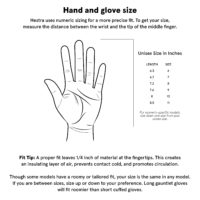 Gloves: Essential Airstream Tools
A great pair of gloves gives you the confidence to work efficiently and safely as you set up camp. There's a lot to do – chock the wheels, drop the weight distribution bars and unhitch, level the trailer, and lower the stabilizing jacks among other things. You want gloves that will get the job done and not get in the way, allowing you to work efficiently and safely. Because – let's face it – what you really want to do is take the gloves off and kick back by the fire.  
We've been packing the simple, durable, and comfortable gloves from HESTRA in our Airstream storage compartment for years now, and we're excited to bring them to Airstream Supply Company. Durable, comfortable, and dry, HESTRA's gloves are an essential piece of the Airstream toolkit. 
Founded four years after Wally Byam hung the first Airstream sign above a warehouse in Los Angeles, HESTRA was born in the Swedish forests, where lumberjacks needed tough gloves for tough work. Martin Magnusson and his family settled in the small town of Hestra and began making gloves in 1936 for the local loggers. The next year, a ski slope was created nearby, and as more and more people came up into the hills to ski, Magnusson saw a market expanding for his warm, dry gloves. Sweden became a skiing mecca in the 1960s, and HESTRA became the go-to for warm, dry, skiing gloves. 
Though they've grown, they still build products that live up to their mantra that Hands Come First. Today, the Magnusson family still manages the company, which has expanded to manufacture hundreds of styles of gloves for sport, ski, fashion, and professional uses. The HESTRA JOB brand is HESTRA's line of work gloves – strong, comfortable, and articulated in a way that give them great dexterity and precision. From the thick, warm fingers of the Kobolt to the everyday comfort and protection of the Lynx, HESTRA gloves are made for warmth, protection, and fingertip sensitivity.