In 2012 MPOWERD® created the first inflatable solar light with the goal of making an affordable clean energy product that people could use in any situation — from outdoor camping adventures to backyard parties to everyday living for people in emerging markets without electricity. Their inflatable Luci light uses a solar panel to charge, and has been a mainstay in the outdoor camping world ever since.
Now, Airstream Supply Co. is excited to offer their newest outdoor lighting essential: Luci Solar String Lights. Using the same limitless power of the sun, Mpowerd's Luci Solar String Lights provide the perfect campsite ambiance. It can also work as a mobile charging station for any USB device.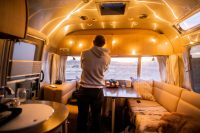 The sun on a string
Luci taps into a source of light that's limitless and readily available to everyone on our planet — the sun. Advancements in renewable tech have given MPOWERD the means to literally put the power of the sun into a device that fits in the palm of your hand.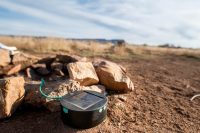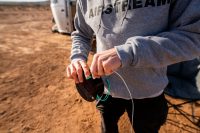 Hidden inside the expandable unit, Luci Solar String Lights pack 100 lumens into 10 nodes on an 18 ft cord. Along with mobile charging capabilities, this is the perfect way to light up your space. With the push of a button, cycle through three modes of brightness and dim the light to your preferred brightness. Or use the built-in flashlight mode to light your way in the dark.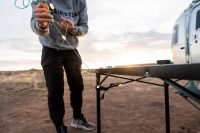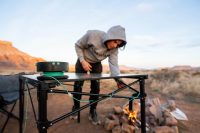 Features
18 ft cord in expandable unit
Mobile charging
100 lumens
Warm white LEDs
Lasts 50 hours on a single charge
Recharge via solar panel or quick charge via USB
20 warm white LEDs in 10 nodes
Built-in LED external flashlight
Hanging cord
Built-in USB port for charging devices
USB plug at end of cord for charging light
Durable
Lightweight: 11.3 oz (320 g)
Waterproof: IPX4
Operating temp: 32ºF – 113ºF (0ºC – 45ºC)