Pure cotton bath towels featuring some of Pendleton's most popular designs inspired by America's National Parks. Choose from Glacier or Crater Lake designs that are woven in vivid colors that stay true, wash after wash. Select from three sizes – Bath Towel, Hand Towel, and Washcloth.
Glacier National Park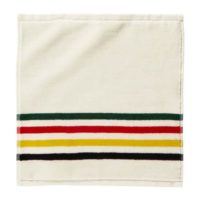 Crater Lake National Park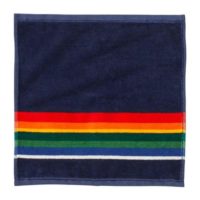 Since the early 1900s, Pendleton Woolen Mills has honored America's National Parks with a collection of distinctive park blankets – the designs for which inspired this towel collection. The Glacier Park National Park Blanket was one of the first, with a design based on the iconic blankets produced by the Hudson's Bay Company beginning in the late 1700s. Its historic markings and colors date back to the frontier trading posts. Traders would indicate the weight of the blanket offered in exchange for furs by holding up one finger for each pound. The original blankets incorporated three, four or five black stripes in the design, which indicated the value of the blanket. Colors and variations of the original striped theme have been adapted to reflect distinguishing characteristics of each park and blanket in the collection. National Park Blankets are still woven in Pendleton's Pacific Northwest mills, just as they were nearly 100 years ago.
Details:
Pendleton is proud to support the National Park Foundation, the official charity of America's national parks. $1.6 million has been contributed so far thanks to customers like you.
These towels are made following environmentally-friendly standards and under safe, socially responsible working conditions as certified by OEKO-TEX®.