A perfect carry-all, this extra-large waxed canvas tote is handsome, versatile, and water-resistant. Use it as a log carrier, car-camping-stuff-hauler, massive grocery bag, and more. Thick, durable cotton straps and sturdy metal hardware make this a bag you'll use for years. The Neelum Firewood Carrier Tote complements Barebones full Neelum waxed canvas collection, including the Neelum Duffle Bag and Neelum Tote Bag.
Like high-quality leather, waxed canvas looks and feels better the more you use it; expect a beautiful patina to evolve. Waxed canvas is also super tough, easy to wipe off and clean, and an animal-safe alternative to leather.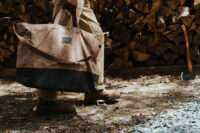 Features
• Complements Barebones' full Neelum line, including their Neelum Duffle Bag and Neelum Tote Bag.
• Ideal as a firewood carrier or extra-large tote
• Made of 12 oz waxed canvas
• Durable and repels water
• Beautiful patina evolves over time
• Simple, long-lasting design
Materials
• 12 oz Waxed cotton canvas (beeswax)
• Polyester thread
Specs
• Dimensions: 19.75" x 8" x 15.75"
• Product Weight: 1.6 lbs
Care
Waxed canvas should never be dry cleaned or machine washed. It can be cleaned carefully by hand. Brush off the loose dirt, rinse the surface with cold water, gently scrub with a brush, then let air dry. If stains persist, use mild bar soap or saddle soap. After cleaning, waxed canvas may need to be re-waxed. To do so, use a wax conditioner and apply following the manufacturer's instructions.