Since 1952, Airstream has called Ohio home, and since 1980, every Airstream has been manufactured at our Jackson Center, Ohio production facility. We're proud of our roots in the Buckeye State and this "Ohio Made" felt flag from Oxford Pennant is the perfect way to show your love too.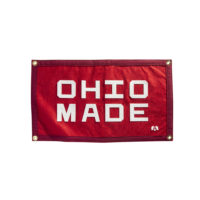 Crafted with cut-and-sewn wool felt with a stitched lettering design, the "Ohio Made" felt flag measures 14" x 24" and will make a statement as readily on the wall of your Airstream as it would on the wall of your home office.
Not recommended for outdoor use.