With the Omnia oven you can serve freshly baked breads and tasty casseroles cooked on your stovetop. Almost everything that can be heated, baked or cooked in a fixed, domestic oven can be baked in an Omnia. If you have an Omnia and a stovetop, you have an oven!
Kit includes:  
Omnia Oven
Silicon Mold
Rack
Recipe Book.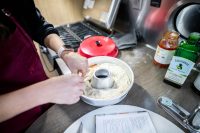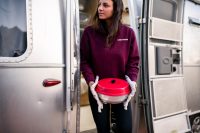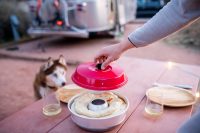 The unique and extremely heat efficient three-part Omnia creates both top and bottom heat. The uncooked food is placed in the aluminum food holder which is shaped like a sponge cake tube mold. The base – a steel plate with center hole – is centrally placed above the flame or heat source and supplies bottom heat as the convection currents flow under the food holder. The central hole allows more heat to flow upwards where it is reflected by the lid to give top heat. The lid is equipped with ventilation holes.
Materials, dimensions and weights:
Stainless steel base, aluminium container and lid. Diameter 250 mm (9.8 in), container volume 2 litres (2 quarts), height 7cms (2 3/4 in), total height including knob 14 cm (5.5 in), weight 0.5 kg (1.1 lb). Measurements in parentheses are approximate.