The OXO Airstream Kitchen Bundle
Included in the Six-Piece Bundle
Expandable Utensil Organizer
8-piece Clip Set
Paper Towel Holder
Napkin Holder
Foldaway Dish Rack
Silicone Drying Mat
Details
Expandable Utensil Organizer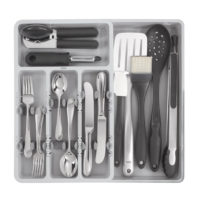 OXO's Expandable Utensil Organizer's adjustable dividers hold more utensils by letting you stack them in opposite directions. The expanded space holds longer items for added storage. To adjust dividers, simply pinch the side walls and slide in or out. Non-slip feet keep the Organizer in place.
8-Piece Clip Set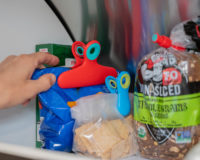 A versatile set of eight clips for sealing snack bags, bread bags, and more. Clips have rear magnets, plus hanging holes to mount clips on hooks, nails, or string.
Set includes:
4 All-Purpose Clips, ideal for sealing bags and organizing papers
3 Bag Cinches to replace bread tags and twist ties
1 Large Bag Clip, with an extra-wide mouth for sealing oversized items
Paper Towel Holder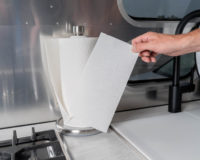 An essential kitchen gadget, every Airstream needs a Paper Towel Holder for quick cleanup and easy access. The OXO Good Grips Steady Paper Towel Holder is engineered for one-handed tearing, so you get precisely the amount you need, no matter the mess. Smooth rotation lets you rip on the run, and the raised lip keeps even jumbo-sized rolls contained. The weighted, non-slip base provides extra stability, while the sleek, stainless steel construction and built-in carrying knob make it easy to transition from inside to your campsite's picnic table.
Napkin Holder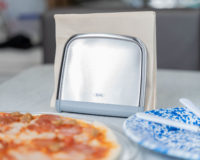 Whether holding napkins on your Airstream dinette table or on the campsite picnic table, the Napkin Holder by OXO is the perfect solution. The tidy design lets you grab one napkin at a time, while stainless steel construction prevents fingerprint smudges. Easy to refill, the Napkin Holder by OXO is the perfect solution for a messy mealtime.
Silicone Drying Mat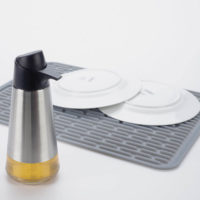 OXO's Silicone Drying Mats feature a unique rib design that aerates and elevates items, keeping them clean and sanitary. Mat can be rolled up or hung for storage. Heat resistant up to 425°F, so you can use as a trivet. Large enough to accommodate frying pans and platters.
Foldaway Dish Rack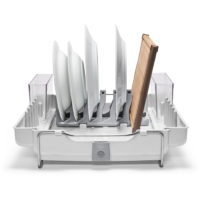 Whether you're drying plates, glasses, bowls or cookware, OXO's Foldaway Dish Rack can accommodate it. The plate rack can be folded down for larger items, while the cup rack holds glasses inside to prevent dripping on counter. Plus, the Dish Rack has a spout for easy draining.