Inspired by old mining and warehouse lights, this water- and rust-resistant steel lantern creates an intimate space anywhere. Larger in size than Barebones' popular Edison Mini Lantern, the Outpost Lantern is ideal for lighting up the picnic table at night or hanging from your Airstream awning. The Outpost utilizes a warm Edison-style LED rope light in the shape of a Helix. This unique LED filament adds a vintage quality and produces a warm, soft glowing atmosphere.
There are three ways to power the Outpost Lantern allowing for maximum versatility:
• USB-C to external power source
• Via the Barebones-specific LI-ON battery that recharges internally
• Via D-cell batteries.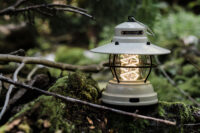 Features
• Water- and rust-resistant
• Powder-coated finish on steel components
• Unique Edison-style LED rope
• LED: 3 Watts
• Lumens: Low: 60 | High: 180
• Color Temperature: 3000 K
• Battery: LI-ION 2-18650 | 4400mAh 3.7V 16.28Wh or Two D Batteries
• Charge Time: 6 hours (with Barebones 2 x 18650 battery pack installed)
• Run Time: Low: 20+ Hrs | High: 8 hrs
• Input: 5V USB-C
• IPX4 Weatherproof Rating
Includes
• One (1) Outpost Lantern
• One (1) USB-C Cable
• One (1) USB-C to USB-A adaptor
Materials
• Powder-coated steel
Specs
Dimensions: 7" x 6.75" x 6"