Wrangle your campsite recycling and with this portable, collapsible, pop up recycling bin from KUMA. Pair with a KUMA Pop Up Waste Bin for the ultimate campsite waste solution.
Features
Durable & Easy to Clean Polyethylene Material
Spring Loaded for Easy Pop-Up Recycle Bin
Compression straps for varied compactability
Easy to Carry Webbed Handles
Lightweight & Collapsible
Great for empty bottles and cans
Fits with 113 L Recycle Bags (Large Size)
Empty Weight of 1.6 Pounds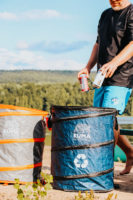 Specs
Width: 18.00 in(W) x 24 in(H) x 18 in(D)
Weight: 1.60 lbs.