Here at Airstream Supply Company, we love RAM® Mounts. Stowing your smartphone so it's easily accessible on the dash in one of their innovative devices makes everything from navigation to picking the next song easy, safe, and reliable. They offer a variety of options, and we're happy to carry two of their most versatile products – the X-Grip and the Tough-Claw – on Airstream Supply Company.
The X-Grip solution
The X-Grip® technology from RAM is simple and strong, allowing you to quickly get your phone secured or remove it from the grip. The Twist-Lock™ suction cup adheres with uncommon strength to your windshield, meaning you'll never have to worry about it falling while en route. If you've never taken a long trip without having your smartphone close at hand and easily accessible on the dash, get ready for a new level of navigation.
Features
This RAM X-Grip consists of a 3.3" diameter suction cup twist lock base, standard-length double socket arm and universal spring loaded X-Grip® cradle for cell phones. The suction cup, twist lock base is designed to provide a strong hold on glass and non-porous plastic surfaces. The included X-Grip® cradle has a clean and clever four leg design that sports great holding power without hiding your phone behind foam pads and plastic.
The spring-loaded X-Grip® cradle expands and contracts, allowing for a perfect custom fit of your cell phone. The perfect complement to the modern sleek interior of today's vehicles, the RAM X-Grip® is the cell phone cradle evolved. The X-Grip® includes a device tether recommended for outdoor applications. The cradle is compatible with handheld devices that will fit the dimensions listed below. It is important to verify the dimensions of your handheld device with a case/sleeve/skin when determining the overall size.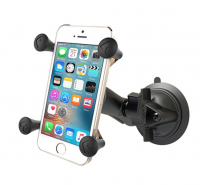 Minimum Width = 1.875" (Minimum Height = 4.25")
Maximum Width = 3.25" (Minimum Height = 2.25")
Depth = 0.875"
Specs
Material: Powder Coated Marine Grade Aluminum, Marine Grade Stainless Steel Components & High Strength Composite
Compatible Items: B size 1" ball
Weight:0.8 lbs.
Also available: