Airstream has set a high bar for smart design, but we think you'll still be bowled over by the genius of Stasher bowls. Made from food-grade platinum silicone — which means they're durable, long-lasting and lightweight — Stasher bowls are as mobile as your Airstream. From the freezer to the microwave, from the dining table to the picnic table to the trail, you can prep, store, heat, chill and serve in a single stashable, smashable, storable, reusable dish.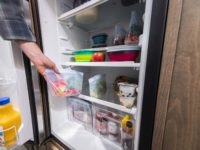 And Stasher bowls prove that reliability and flexibility go together like campfires and ghost stories. The patented Pinch-Loc seal stays open while you dice or dine; squeeze it closed and know you're leak-free wherever you go. Pack flat, fill, eat, wash and repeat.
Best of all, Stasher bowls eliminate the need for trash or plastic. They solve for space and save the planet in one fell swoop! As a mission-driven company, Stasher donates a portion of the proceeds from each reusable directly to nonprofits like the Surfrider Foundation that are on the frontlines of studying and tackling the ocean plastic crisis. To date, Stasher has prevented more than five billion single-use plastic bags from ending up in our waste stream.
Choose the Stasher bowls that match your sipping, souping, or storing needs.
Details
8-Cup Bowl:
Dimensions: 12.25 x 6.75 x 6 in / 31.1 x 17.1 x 6.4 cm
Volume: 64 fl oz / 1893 mL
Tare weight: 9 oz / 255 gm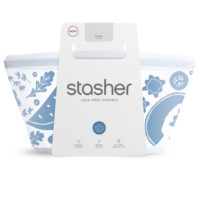 6-Cup Bowl:
Dimensions: 10.75 x 6.25 x 5 in / 27.3 x 15.9 x 12.7 cm
Volume: 48 fl oz / 1419 mL
Tare weight: 7 oz / 198 gm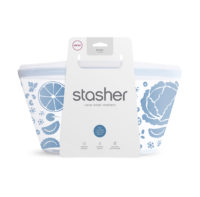 Bundle and Save 3 Piece Set Includes:
One 1-cup bowl: 6 x 4.75 x 2.5 inches / 8 fluid ounces tare weight 3.0 ounces / 85 grams
One 2-cup bowl: 7.5 x 5 x 3 inches / 16 fluid ounces tare weight 4.1 ounces / 116 grams
One 4-cup bowl: 9.25 x 5.5 x 4 inches / 32 fluid ounces tare weight 5.8 ounces / 165 grams
Stasher Bowl Size Chart

Product Features
Food-grade platinum silicone
Patented Pinch-Loc® seal is leak-free, durable and forever resealable
Heat safe up to 425˚F/218˚C
Radically functional and endlessly reusable
BPA free
Product Construction and Care
Silicone
Dishwasher, microwave & freezer safe