Inspired by antique furniture commonly used indoors, these folding chairs and tables from Barebones have been reimagined for outdoor use. Hardwood birch, stainless steel, and copper details come together to create a seamless and natural aesthetic that blends into any outdoor scene. Sturdy and built to last, this furniture folds down easily: store them when not in use or pack them in an RV or car. Stained with a lovely natural honey color, both chair and table are finished with a weatherproof satin clear coat.
Please note, these items are sold individually and not in a set.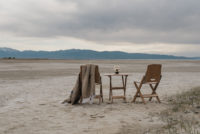 Details
Ridgetop Chair:
Based on antique designs found in school and church folding chairs are unique, portable, and ideal for use on Airstream camping trips or as part of a backyard patio set. The seat is slightly curved, smooth, and shaped for comfort. A unique camp and backyard accessory that's quality enough to use indoors when extra room is needed.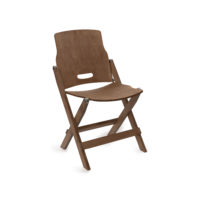 Table:
Inspired by antique card tables, the Ridgetop Table is the perfect size for a picnic lunch or to hold your drinks on an urban patio. The table quickly unfolds for setup and stows away with its slim compact design.