This add on accessory is designed to provide a flow-through on your Rock Tamers mudflaps for hot exhaust gases. Its versatile positioning allows for customization to your specific requirements – so you can mount it anywhere on the mudflap. For use on vehicles with rear facing exhaust systems (factory as well as aftermarket).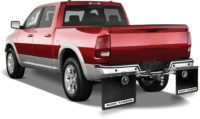 Features:
Simple 2 piece design that easily assembles and gives a professional, functional and finished look (screws included)
Grid design that provides protection from small debris
Complete with 2 exhaust outlets, chisel tool (for cutting the hole in your flap) and handy template
Complete installation instruction included
Shop Rock Tamers and Accessories on Airstream Supply Co.