There's the magic of serendipitous discovery on the road ... and then there's the disappearing act by this set of storage containers. Each piece collapses to a fraction of its size right before your eyes!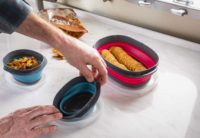 Squish plastic storage bowls are there when you need them, then press and snap to 1.5 inches to store when you don't, making it easy to maximize space in your Airstream. The larger size is perfect for lunch or leftovers; the smaller containers are super for snacks on the go. And each has a clear lid so you can see what's inside. Storage that fits your adventurous life is a pretty cool trick!
Details
Large 7-cup container
Two 2-cup containers
Clear lids
BPA free
Plastic
Dishwasher safe
Please note: This product can only be shipped within the USA.