Some of us wear our hearts on our sleeves. Some of us wear them on our backpacks. Wherever you choose to affix your Silver Bullet Patch, you'll proclaim your love for an iconic product and an adventurous lifestyle, one that'll be instantly recognized and shared by fellow Airstreamers.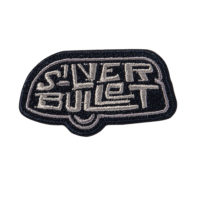 Features:
Navy and gray
Classic embroidered patch with polyester thread
Sewn-on poly blended twill
2.3" W x 1.27" H
Shop the entire Silver Bullet collection, only at Airstream Supply Company.