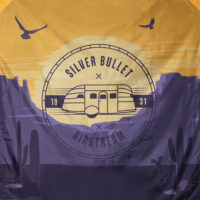 Fine dining doesn't require china. In fact, it doesn't even require utensils. Some of our finest spreads have been enjoyed under whispering pines, beside burbling streams or atop peaks that rival the view from any Michelin-starred restaurant. Our beloved Airstreams give us access to some of our most memorable meals.
Spread out your picnic in style with this big and brilliantly colorful blanket evoking the best of the West, where Airstream founder Wally Byam first crafted a better way to explore. It measures a full 59" x 59", but neatly folds into a convenient 7.87" x 7.87" pouch that tucks right into your backpack or your onboard galley. Made of durable ripstop polyester, it even has weighted corners to stay put when a breeze blows in. We think it rivals any dinner plans — no reservations required.
Features
59" x 59", folds into 7.87" x 7.87"
Weighted corners
Ripstop polyester
Shop the entire Silver Bullet collection, only at Airstream Supply Company.