There's nothing like cooking over an open fire, and our Stake + Grill set give you the ability to cook over virtually any open flame. From a rock-lined fire pit to a state campground metal fire ring, almost any fire can be turned into an open-air barbecue with the Stake + Grill set. Simply drive the stake down into the ground next to your fire pit and then slide on the grill grate.
A locking handle lets you position the grill at the perfect height, or move it up and down to bring food closer or further from the fire for perfect temperature control. The grill easily pivots away from the heat for easy loading and unloading of food.
The grill grate features an up-turned edge to keep round objects from rolling off – no more stray hotdogs escaping into the flames below! The heavy-duty grill grate is even supportive enough to perk coffee or boil water (just make sure your carafe or teapot is heavy-duty enough for an open flame). And the chrome finish cleans easily to help ensure many seasons of use.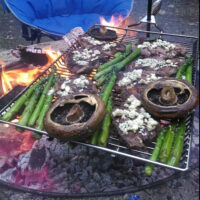 Features