When it comes to cleaning your Airstream, you want something that provides superior cleaning power without abrasive cleaners that might damage the surfaces. For more than 20 years, E-Cloth has been on a mission to create incredible cleaning cloths that provide high performance cleaning capability – with just water.
E-Cloth's unique manufacturing process produces high-quality microfiber materials. When you clean with E-Cloth products and water, dirt and grime is trapped into the extra small voids found within the fibers, delivering a perfect performance, every time. E-Cloth's task-specific cloths, scrubbers, and mops deliver a high-performance clean for every task, every time — with just water. Don't just push the dirt around: E-Cloth plus water gets the job done.
Airstream Supply Company is excited to offer a variety of E-Cloth products. From area-specific cleaning bundles to mops, scrubbing pads, and dish towels, shop now and clean your Airstream to a shine.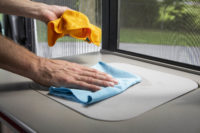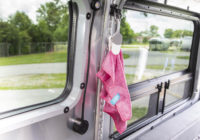 Perfect cleaning results – just add water
The E-Cloth Starter Pack is your go-to for nearly every home cleaning and polishing task, from sticky counters to smudged windows. General Purpose Cloths make quick work of everyday messes while the Glass & Polishing Cloth is the secret to a satisfying, streak-free finish, every time. Just wipe — and admire the results. Cleans nearly every home surface, including windows, stainless steel, tile, counters, and cooktops, all with just water. 
Details
Includes:

4 General Purpose Cloths
1 Glass + Polishing Cloth

Materials:

General Purpose Cloth: 80% polyester, 20% polyamide
Glass + Polishing Cloth: 80% polyester, 20% polyamide

Dimensions:

General Purpose Cloth: 12.5in x 12.5in
Glass + Polishing Cloth: 16in x 20in
General Care
Daily: Rinse and wring out your General Purpose Cloth, Kitchen Cloth, Bathroom Cloth, Window Cloth and Glass & Polishing Cloth after use.
Weekly: Machine wash up to 195°F (hot) with a small amount of detergent. No fabric softener or dryer sheets. Tumble or hang dry.
As often as you like: To clean and degrease your Starter Pack Cloths, boil in just water.
Oops! Instructions: If fabric softener or dryer sheets are used by accident, rewash with a little detergent on the highest temperature setting.
Made to last: The Starter Pack comes with a 3-year or 300-wash guarantee (when used and cared for as recommended).