Pop Chart was founded in 2010 by Patrick Mulligan and Ben Gibson – two friends who'd worked in book publishing and wanted an outlet for their interest in graphic design and data visualization.
"We started messing around with ideas during our off hours at work," says Gibson of those early days. "We're both pop culture geeks – we love the nitty gritty details that most people don't need to know. Patrick's editorial mind and research mind really loved digging into the subject matter, and that funneled through my design aesthetic."
Their first two projects – Beer Varieties and Rapper Names – gained a ton of press and sales took off. Soon they were rolling posters, packing them in tubes, and lugging them to the post office. By 2012 they'd both quit their day jobs and decided to take Pop Chart full time.
"It felt like we had to do it," says Gibson. "We had to give it a shot."
As social media grew ever more ingrained in daily life and blogging exploded in popularity, infographics became increasingly popular.
"There were tons being posted online," says Gibson. "There's something practical about them – it's a cool way to share information – to visually tell a story."
Today, Pop Chart has grown to a staff of 20 split between their Manhattan office and their Brooklyn production facility. The overwhelming majority of Pop Chart's projects begin in house, during brainstorming sessions where many ideas are tossed out and kicked around to see if they gain traction.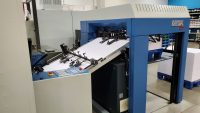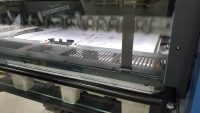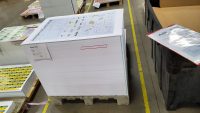 "Creating infographics is unique, in that the design and the content have to be developed hand in hand – our motto is 'Data Plus Design'," says Gibson. "You don't know what the design can look like without the information to go into it."
As the team digs into research materials, they begin initial design sketches with pencil and graph paper.
"We try and figure out what goes where, and what makes visual sense for the viewer to digest the information," says Gibson. "Sometimes that initial phase last a couple months, sometimes it's a year."
A recent project saw the Pop Chart team document ever species of bird native to North America. It's a breathtaking piece of information art – one that immediately confirms the dedication to research and design in those early stages.
"We create deep dives into these subject matters," says Gibson. "You can't cut corners, and you have to get into the nitty gritty of this stuff for it to stand up."
After the design phase is complete, the Pop Chart team migrates into the digital realm, creating wireframe mockups and laying out the information to see how the data visualization flows.
For the Airstream project, the Pop Chart team was granted access to the Airstream corporate archives. Working with Airstream Corporate Historian and Archivist Samantha Martin, Gibson's team dove deep into Airstream history. They identified major milestones in company history, and looked for Airstream models that stood out from the crowd both visually and in terms of their historical significance. Additionally, a team of retired Airstream employees consulted on the project, offering suggestions, corrections, and insights to ensure as much accuracy as possible.
The final project is an artistic testament to nearly 90 years of Airstream innovation, design, and travel inspiration.
"It's a cool job to have time to learn about these things," says Gibson. "We joke about that all the time – that we really have to become mini experts on the subject matter."
Gibson says it was an honor and pleasure to work with Airstream on the project.
"We're pretty selective about the partner projects we take on," he says. "We want companies that are a good fit, and Airstream really fit that bill –– there's so much history there, so much great design. It just made sense."