Airstreamers love the outdoors. From physical exercise to getting out of the city, the outdoors offers us a veritable playground that brings together so much of what we love. But for those travelers who are attracted to water, bringing along a kayak can be a cumbersome task.
With an Oru Kayak stowed in your Airstream, you're that much closer to the outdoors you love – all in an easy-to-transport package that won't take up too much space (or precious weight) in your Airstream. New from Oru, the Inlet is their lightest, most portable, and easiest to assemble folding kayak yet. Consider it an origami kayak for everyone. Designed for flat water, it's playful, lightweight, and ridiculously fast to assemble. With the smallest box of any Oru model yet, it stows easily in the Airstream and unfolds quickly to get you out on the water in no time.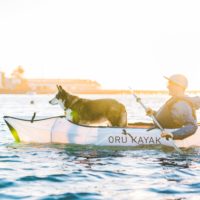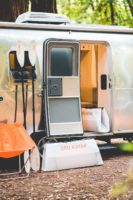 Product Highlights:
The Inlet a 9'8" kayak that folds down to an unbelievably compact box. At 20 pounds, this origami kayak weighs half of a traditional kayak. It's compact enough to store in your car trunk, and stows easily inside your Airstream. It tracks and handles far better than inflatable kayaks.
It's stable, but also nimble and playful. It's intended for use in calm water — think mirror-smooth lakes, rivers, and streams. Its large, open cockpit is perfect for paddles with a dog or small child, and it's the perfect kayak for first-time paddlers and beginners. But seasoned paddlers will love the portability and incredible handling.
Features:
Durability: Oru Kayaks are made from a custom polypropylene, with a 10 year UV treatment, and a 20,000 fold cycle rating. While the hull is designed to take a beating, Oru Kayaks are best treated like a fiberglass boat. Oru Kayaks come with a limited 12-month warranty.
Made of double-layered, custom-extruded polypropylene
Lightweight and extraordinarily strong
Manufacturer-rated for 20,000 fold cycles
10-year UV treatment
Withstands sliding over smooth rocks or bumping into obstacles under the water
Performance: The Inlet is designed for flat water. Oru Kayaks use origami to deliver great tracking and stability. The lightweight materials make handling easy and responsive. 
Portability: The Inlet's fold pattern focuses on efficiency and will streamline your entire kayaking experience, from box to boat to water and back. Every fold was designed to nest and fit perfectly, eliminating wasted space and making the smallest box possible. No garage, SUV or roof racks required. Stash it in a trunk. Check it on a plane. Store it behind your couch. Hike it into remote waters.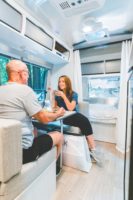 Details:
10 foot kayak that folds up into the size of a large handbag
Under 20 pounds
 This full-sized, hardshell kayak will fold down and carry like a guitar case
Our super comfy custom pack lets you trek to remote water that's never floated a boat
Note: The Inlet is NOT compatible with the Oru Pack. Use Oru's Inlet Pack instead.