The California Car Duster is one of those tools you don't know you need until you try it. Tested and vetted by Airstream service techs in Jackson Center, we love this cleaning solution.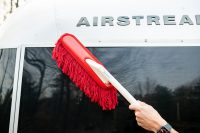 Utilizing proven technology, the California Car Duster's 100 percent cotton strands are baked with a special wax that lifts dust from the surface without scratching. Extending time between washes, you'll save time and money. The best part – it's durable enough to last for years to come with some reporting they've used their duster for 15 to 20 years.
Features:
Removes dust quickly, without scratching your paint
Extends time between car washes
#1 choice of diehard car detailers, car enthusiasts and casual vehicle owners
Includes a carrying case/storage bag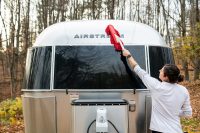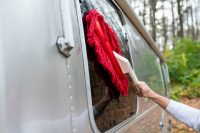 Care and Cleaning
The Original California Car Duster can go years without washing and in most cases works just as well as the first day. We recommend simply shaking the duster out after use. On occasion, you may also blow the mop out with air.
If you would like to wash your California Car Duster, follow these steps:
Wash the duster by hand, leaving the mop on the handle.
Clean the duster in cool water mixed with a small amount of a mild detergent (i.e. Woolite)
Rinse clean with fresh, cool water.
Let the duster air dry (this may take a couple of days)