Bundle Includes:
1 custom-made sink cover cutting board
1 cafe paddle
1 set of tongs
Responsibly Crafted
Founded as a way to take advantage of wood left over in the Taylor Guitars instrument manufacturing process, Stella Falone cutting boards are responsibly crafted with a variety of gorgeous wood. Our custom-made cutting board sink covers are manufactured with two tonewoods used by Taylor Guitars to make their premium instruments: American walnut accented with West African ebony. From board to board they are visually unique, showcasing walnut's rich variegation and grain structure, with an elegant contrasting ebony corner piece. The boards feature durable solid-wood construction and a round cut-out near the corner for easy handling, to slide sliced items into a bowl in the sink, or for convenient hanging. Best of all: They are crafted with sustainability in mind, utilizing the leftover pieces from the Taylor guitar production process that otherwise might have gone to waste.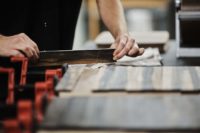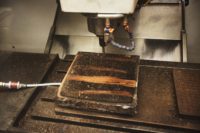 Use and Care Instructions
Your new Cutting Board Sink Cover, Paddle and Tongs were washed multiple times during the manufacturing process, leaving the wood in a natural, unconditioned state. Before use, it's important to condition them with food-grade mineral oil (packet included). This will prevent the products from drying out, warping, or cracking.
Wash your cutting board, paddle, and tongs with dish soap and hot water.
Let dry overnight.
Condition each with food-grade mineral oil (included).
Apply oil evenly to surfaces using a clean, soft, lint-free cloth or paper towel, and wipe off excess. You will likely notice discoloration on the paper towel. This is completely natural – and can continue for a few weeks even during regular use. Air dry or use paper towels to dry your products for the first few weeks.
Let each coat soak in for at least an hour. Re-apply 2-3 coats.
After applying the final coat, allow the oil to soak in overnight before use.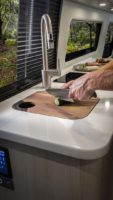 Fits all Interstate 24X, Interstate GL models. Interstate 24 GT and 19 customers, please measure your sink before purchasing.
Interstate dimensions: 11.88"L x 0.50"W x 14.13"H
Atlas dimensions: 14.5" L x 0.50" W x 16.25" H