At first we were skeptical of the Daggerfish. After all, it looked like nothing we'd ever seen before – like a fishing pole minus the reel and rod. But that was exactly the point, and after the first cast off the dock we were (*ahem*) hooked. The expert craftsmanship, the marriage of form and function, and the ease of use means the Daggerfish is as perfect for the fishing enthusiast as it is for the folks who haven't fished since they were kids. And now, Airstream Supply Company is proud to offer the Daggerfish Handreel and spread the word about this incredible piece of fishing gear.
"There are two types of fishing," says Daggerfish creator Adam Nelson, who hand-crafts each handreel in a makerspace in Pittsburgh. "Those who want to catch the biggest fish, or the most fish. And then there are those who want to simply be fishing. The Daggerfish is made for everyone, but especially for those people who value the meditative nature of sitting by the river, feeling calm and relaxed."
Daggerfish makes high-quality, hand-made gear for anglers, backpackers, bushcrafters, and outdoors-people. Ultralight, functional, and beautiful, Daggerfish make great additions to any camping kit, and truly unique gifts. More than just an exceptional piece of fishing gear, the Daggerfish is the perfect excuse to get outside, relax by the river, and enjoy the calm enjoyed by anglers for centuries.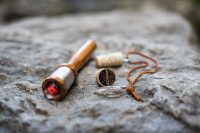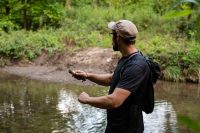 The Daggerfish Ultralight is a minimalist fishing kit complete with everything you need for backcountry fishing. Ultralight and compact, with a hollow handle for extra storage and weight reduction – the Daggerfish is the perfect fishing gear for backpackers, bushcrafters, anglers, and outdoors-people.
Includes:
30 yards of 6-lb monofilament line
Complete tackle kit with hooks, sinkers, swivels, line float, shad dart, and spin-tail grubs
Bonus twirl-tail bait
Leather wrist strap
Cork stopper/float
Storage cavity inside reel
Hollow handle for increased storage capacity.
Base weight of only 2 oz!