Water pressure that is too high can damage your Airstream's plumbing system. Keep an eye on water pressure flowing into your onboard system. Gauge measures water pressure up to 120 PSI, with 60 PSI and above indicated in red.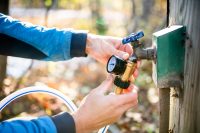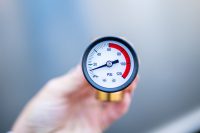 Simply screw the water pressure gauge on the end of your fresh water hose and then tighten at the fresh water inlet. Monitor the rising pressure as you open the flow, stopping when desired water pressure is achieved.
The gauge is lead-free and conforms with federal and state laws for drinking water fixtures.