The Barebones carabiner offers an elevated twist on one of the most essential accessories for camp, cooking, hiking, or any outdoor experience. Designed to withstand the heat of an open fire, hang or store cookware, organize tools and equipment, or suspend lanterns. Minimal features, signature twisted spine, and copper wire gate match the look and feel of our outdoor and open fire collections.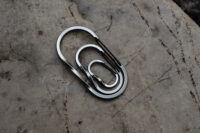 Choose from three sizes:
-Large (Comes with 1 large carabiner)
-Medium  (Comes with 2 medium carabiners)
-Small  (Comes with 3 small carabiners)
Features
• Copper, Steel, or Black plated wire gate
• Powder-coated aluminum alloy
• Signature twisted spine
• Designed for open fire and outdoor use
• Not intended for climbing
Items Included:
Large: 1 Large Wiregate Carabiner
Medium: Set of 2 Medium Wiregater Carabiners
Small: Set of 3 Small Wiregate Carabiners
Materials:
Aluminum Alloy
Powder Coated Paint
Dimensions:
Large
• 5" x 2.65" x 0.5"
Medium
• 3.35" x 1.75" x 0.35"
Small
• 2" x 1.25" x 0.25"
Weight Capacity:
Large
• Gate Open: 38lbs
• Gate Closed: 60lbs
Medium
• Gate Open: 35lbs
• Gate Closed: 50lbs
Small
• Gate Open: 25lbs
• Gate Closed: 30lbs