Introducing Airstream Storage Solutions: Custom bundles of containers, racks, trays, and more to help you organize your Airstream life. Our initial collection offers bundled kits of storage solutions for your Airstream bathroom, overhead lockers, and the kitchen, but more are in the works.
A curated collection of bins, trays, containers, and more to organize your Airtstream life.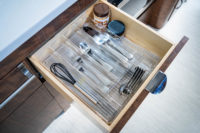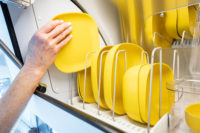 We've been building Airstream travel trailers for ninety years. That's ninety years of different Airstream model lines, different parts suppliers, engineers, and manufacturing techniques – not to mention ninety years of innovations that have made Airstream not only the world's most iconic travel trailer, but one that continues to evolve with the world of travel.
While not quite snowflakes, there are major differences between model lines even from year to year. Many modern Airstreams – ones built since the Christopher C. Deam redesign in 2001 – have many similarities. But going further back in time the differences become even more starkly defined. Still, Airstream Supply Company set out to create storage solutions that would work for most Airstreamers – bundled kits that will get you started and help you wrangle your utensils, flatware, spice rack, utensil drawer, refrigerator shelves, and more.
Because your Airstream employs the best use of space in the RV industry, we set out to create kits that would maximize the use of all that great storage space inside your Airstream. From the cupboard to the drawers to the overhead storage lockers and under the benches, these kits give you the ability to organize your Airstream life. Modular and varied in depth and dimension, the kits allow you to create the perfect space where items can't shift during travel.
Instead of free-floating pantry items, paper products, oil, vinegar, and everything else you need to whip up a meal in your galley, organize it all and feel confident that things will stay put in transit.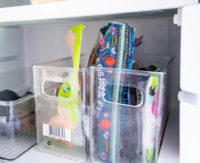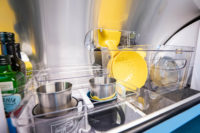 Cupboard, drawer, and overhead locker storage solutions: Custom storage bundles at Airstream Supply Company.