Supplying Your Airstream Adventure
Through Airstream Supply Company, we've continually sought out ways to solve the needs of the Airstreaming community. While great gear and expert advice are awesome, our focus is on finding the craftspeople, small brands, and manufacturers who can provide custom solutions for Airstreamers around the world. Through social media, online forums, submissions to our website, and emails from folks who've outfitted their adventures, we've amassed a huge list of recommendations and requests.
Storage solutions have been the most-requested product on our list.
Knowing that only a seasoned Airstreamer could comprehend the complexity of trying to create a custom storage solution, we turned to Airstream Ambassador and organization guru Traci Miller to help design custom organization packages made for Airstreamers. A seasoned Airstreamer with over 400 nights in an Airstream, Traci lives between Charlotte and Asheville and owns Spatial Solutions Unlimited. Through the lens of her experience with custom organization solutions, Traci work with two leaders in organization solutions – iDesign and YouCopia – and helped Airstream Supply Company curate a creative product collection with Airstream storage options for everyone.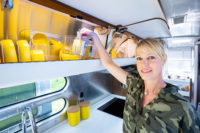 The result is Airstream Storage Solutions, with easy to shop Storage Bundles as well as a la carte options for rounding out your collection. Like a piece you found in our Kitchen Drawer Bundle? Add more to your next order, or complement what you already have with a new bundle. Working with the best brands in the organization business, our collection of custom Airstream Storage Solutions is constantly evolving and brings modern style, great functionality, and durable quality to your cupboards, drawers, and overhead lockers.
Best of all, Airstream Storage Solutions are Airstreamer-approved.
Shop custom storage solutions at Airstream Supply Company.