That design mentality has fueled DMOS over the years as they've refined their designs and added new products to the mix. The company's name is an acronym for Do More Outrageous Stuff, and that philosophy guides them today as they design tools for people who embrace adventure in their everyday lives. 
The first DMOS shovels (and still some of their best-selling designs) were aimed at backcountry snow sports enthusiasts and were born out of necessity. 
"My son was into snowboarding, and he and his friends would build kickers out in the backcountry with these flimsy plastic shovels," Susan remembered of that early inspiration. "One after another the shovels would break." 
There was a hole in the market, and Susan saw an opportunity. Shovels were either too cheaply made, too bulky, or too small and ineffective. Most portable shovels can trace roots back to entrenching tools that have been around in mostly the same form since the time of ancient Rome.  
"These were short tools that were made to be used while you were on your knees, kneeling down and digging out a trench while you avoided enemy fire overhead," said Susan of this style of tool that is still a common option on the market. "The problem is that you can't get a lot of power and performance out of these short-handled tools."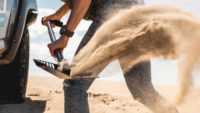 Photo by Shannon Corsi photography
The first DMOS shovels were squarely aimed at moving snow, sand, and mud. Over the years, DMOS has expanded their line of portable shovels to include tools made for prying up rocks, digging into hard-packed earth, and moving debris quickly and efficiently. The company has successfully crowd-funded three shovels through Kickstarter, with the Delta Shovel meeting its full funding requirement in just 45 minutes.  
"People want solutions other than what exists at big box stores," said Susan. "DMOS has broken through that pack and found a following with consumers who want well-made, reliable, and versatile products." 
A longtime overland enthusiast, Susan is a veteran of four Rebelle Rallies – the first women's off-road navigation rally raid of its type in the United States, and the ultimate road trip for adventurous, competitive women. These rallies are the ultimate exercises in preparedness, where every setback is an opportunity to grow and problem solve. They are also excellent ways to put DMOS tools to the test in the wild. 
"I've dug out under the wheels so we could get traction pads or car mats underneath the tires, and I've carried over gravel and dry earth for more traction," she said. "Anybody can dig a vehicle out with their hands. The question is: How long do you want to be out there?"