Airstream is proud to partner with Taylor Guitars and their sister brand, Stella Falone, on a new custom-crafted Cutting Board Sink Cover for our best-in-class line of Mercedes-Benz touring coaches. Like Airstream, Taylor Guitars is grounded in a philosophy of crafting beautiful, functional products with an emphasis on environmental sustainability. This is the story of how this partnership came together to produce some of the most beautiful cutting boards ever to grace an Airstream. 
Bob Taylor understands travel as well as any Airstreamer. Five decades into a career perfecting the art of premium guitar craftsmanship, his instruments have crisscrossed the globe with touring musicians like Paul McCartney, Billie Eilish, and Zac Brown. In 1996, he launched an ultra-portable travel-sized guitar that kick-started the travel guitar market. And with wood responsibly sourced from forests around the world, Taylor understands the interconnected global nature of building a product that is as environmentally and ethically responsible as it is beautiful and sonorous. 
All of which led to the founder of Taylor Guitars turning his sights to the kitchenware business. While that may seem incongruous at first blush, the premium instruments built by Taylor Guitars and the gorgeous cutting and serving boards manufactured by sister brand Stella Falone are part and parcel of Bob Taylor's business philosophy.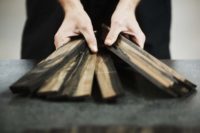 "At Taylor, we like to say that sustainability is a journey, not a destination," Bob says. "To be successful, it helps to understand that there are more roads ahead. You can always make improvements. You can always be more efficient. You can always lessen your load and lessen your impact on Mother Earth. I think Airstream owners intuitively understand this." 
Like Airstreams, Taylor guitars are a labor of love. A combination of hand-built craftsmanship and state-of-the-art tools, the manufacturing process for both products is the perfect blend of art and science. What aluminum is to Airstream, wood is to Taylor. And where Airstream is committed to preserving the natural world and beautiful travel destinations for everyone's enjoyment, Taylor is committed to preserving and nurturing the forests that provide the key ingredients to their premium guitars. As a company that relies on wood sourced from various regions around the world, Taylor has long felt a deep responsibility to be good stewards of the environment while adopting ethical wood sourcing practices.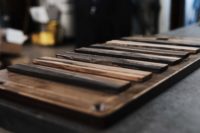 Which brings us back around to Stella Falone and the beautiful wood cutting and serving boards they create. The Stella Falone story began with ebony – a dense, ornamental hardwood with a deep black color that's prized in the production of stringed musical instruments like guitars and violins. In 2011, Taylor purchased an ebony sawmill in Cameroon. Having ownership allowed Taylor to assume direct responsibility for its ebony supply chain, ensuring that the sourcing practices were legal, ethical, and more transparent.  
But as with any manufacturing process, there's wastage produced during the cutting of ebony for musical instrument components and excess pieces that might normally be discarded. While that leftover wood can't be used in the Taylor guitar manufacturing process, Bob Taylor saw an opportunity. He founded Stella Falone in order to take advantage of those orphaned ebony pieces, manufacturing cutting and serving boards with the leftovers, and in the process creating greater value for the ebony trees and decreasing the waste. Soon, other wood used in the guitar-making process made its way into Stella Falone products, like the walnut used in the specially designed Airstream sink covers.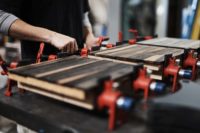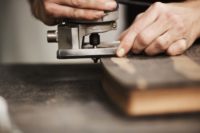 "We use an array of beautiful hardwoods to make the guitars in our line—walnut, ebony, koa and others," Bob says. "So, we can apply that same approach we first started with orphaned ebony to these other woods. It gives us the ability to create kitchenware products that showcase the unique aesthetic beauty of each type of wood." 
In recognition of this work, along with Taylor's similar initiatives in Hawaii and with urban trees in Southern California,  Fast Company named Taylor Guitars as one of the world's most innovative companies in the manufacturing sector. 
And with so many similarities shared between the companies, it was a hand-in-hand partnership that led to the creation of our custom Stella Falone Cutting Board Sink Covers. Custom-crafted to spec for Airstream's luxurious line of touring coaches built on the Mercedes-Benz® chassis and specifically made to fit perfectly inside the lip of your touring coach sink, these gorgeous kitchen boards come in two sizes (one for the Interstate line and one for Atlas). They add natural wood style, gorgeous functionality, and additional prep space in your Airstream touring coach's onboard galley with a one-of-a-kind look.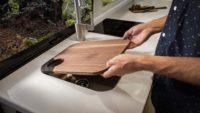 "We were thrilled to work together with Airstream on this project," Bob says. "It's a brand I've long admired—especially as someone who loves to travel and has owned several Airstreams in my life. It's been gratifying to have the opportunity to custom-design a kitchen accessory for Airstreamers that's both elegant and functional." 
Each board showcases two tonewoods used by Taylor Guitars to make their premium instruments: American walnut accented with West African ebony. From board to board they are visually unique, showcasing walnut's rich variegation and grain structure, with an elegant contrasting ebony corner piece. The boards feature durable solid-wood construction and a round cut-out near the corner for easy handling, to slide sliced items into a bowl in the sink, or for convenient hanging. Best of all: They are crafted with sustainability in mind, utilizing the leftover pieces from the Taylor guitar production process that otherwise might have gone to waste.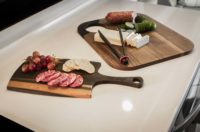 Additionally, each custom-built Cutting Board Sink Cover comes with a Stella Falone Ebony Café Paddle and Tongs bundle. Whether cutting food during meal prep or serving up a gorgeous charcuterie, the Ebony Café Paddle and Tongs bundle are the perfect kitchen complements. A perfect gift for home cooks, aspiring gourmets or anyone else with a culinary passion, the bundle includes two pieces of beautifully crafted, one-of-a-kind kitchenware made with responsibly sourced West African ebony. Each Ebony Café Paddle, made from three pieces of solid, half-inch-thick ebony, boasts a unique grain pattern and coloration and provides a sturdy serving and prep surface that's naturally antimicrobial and won't dull your knives. The paddle features beveled edges and a comfortable engraved handle with a hole for hanging and displaying. The Ebony Café Tongs and their innovative silicone-band joint design offer easy handling of charcuterie, fruits, vegetables, cheeses and other finger foods. 
Shop our custom cutting board sink covers for Airstream's line of Mercedes-Benz® touring coaches – only at our official store, Airstream Supply Company.