38.5347°N, 105.9989°W
Salida, CO, USA
When Jeff Bamburg set out on his woodworking journey he had an idea about what he wanted to build, but little else. Woodworking wasn't something he'd ever done. The tools were unfamiliar. The techniques obscure. The task daunting. Some may have started with birdhouses or a set of shelves. Jeff decided to build a guitar.
Tall and soft-spoken, Jeff works assiduously at his craft in his Salida, Colorado store, Rocky Mountain Guitar Co. A bell rings on the door when you step inside the downtown storefront. The building is split in two by a wall that separates the showroom up front from the workshop in the back. Beautiful, handcrafted guitars hang on the wall, begging the question: Are they meant to be played, or admired at a distance like a painting on a museum wall?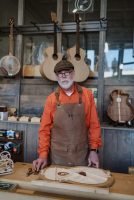 Jeff puts the question to rest immediately, encouraging customers to take down the guitars, play them, and learn what makes each unique. Some ring with the chimes of bright treble, while other have a lush, mellow sound. Experienced players marvel at the responsiveness of the action – the space between where the string sits above the fretboard. Lesser guitars require more strength to press the strings, and often the space increases the further down the neck one plays. But Jeff's guitars require only a delicate touch, allowing musicians to play intricately with less effort.
"It isn't easy," Jeff laughed. "But when you build a guitar for someone, and then you listen to them play, and you hear the music and sounds they create – it's really rewarding."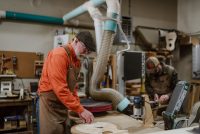 Attention to detail does not come easily – or quickly. Jeff estimates 80 hours go into each instrument.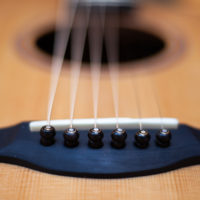 The highly skilled work done by craftspeople called luthiers may have daunted anyone else. But Jeff persisted, teaching himself largely through trial and error. His workshop has the lived-in feel a place that gets daily use. The space is redolent with the warm smell of sawdust and wood shavings. Work tables sit mounted with clamps and vices to hold each piece in place as Jeff sands, shaves, and tests for tone and timbre. This is meticulous work, and it is highly sought after.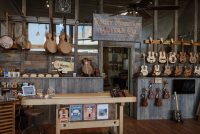 "I make tools for artists," said Jeff. "They're made to be played, not to sit on a shelf or locked up in a case."
The process of customization begins with a conversation. Jeff talks with the musician about their playing style and learning the intricacies of their particular method. He asks questions about the type of music they play, how they strum, and whether they sing while playing. Then he designs and builds an instrument to their particular specifications, including body style, string spacing, and the type of woods used. Depending on the wood used on the front and back of the guitar, different tones can be achieved.
The result of all that time, conversation, and attention to detail is a functional work of art as unique as the person playing it.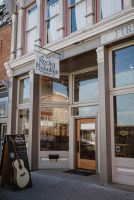 "I talk with customers about what tone they want," said Jeff. "Do they want something bright? Do they want something dark that lingers? The wood isn't just about the looks – it's the core of what the guitar sounds like."