Located in the famed French Concession, the Bambu studio is situated on a street lined with trees forming a canopy overhead. Bicycles clatter past on the street while songbirds serenade workers through the building's open windows.
"It's a calmer, kinder urban existence, to the frenetic, car-clogged freeways, and byways, and throbbing metropolis of Shanghai and 25 million people," Jeff said, surveying the plates, utensils, and other dining products Bambu produces.
"We've termed it 'handmadeness'," Jeff said of their production method. The husband-wife duo settled in Shanghai, China two decades ago after finishing up a project with a big-name American brand. They stayed, immersing themselves in the culture and exploring how materials can drive product development.    
"We were experiencing and seeing bamboo used in daily life, from foundation and infrastructure to more ceremonial uses – from scaffolding to tea service," Jeff explained. This was long before the world was exposed to bamboo and before "ecofriendly" held a place in Merriam Webster.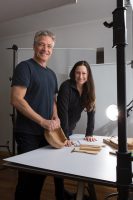 "We wanted to turn people on to renewable materials – that became our raison d'etre," Jeff said about their driving mission.
"Our full intent from the beginning was to utilize a wide pallet of renewable materials, all of which are quite prevalent and available in China, with the largest supply of bamboo in the world, largest supply of industrial or agricultural hemp, and to many people's surprise, also a source for cork."
Bamboo cooking and prepping utensils, bamboo and cork flyswatters and hemp kitchen towels are among more than 100 products Bambu offers. Their collection includes the housewares, hospitality and outdoor adventure segments, with multi-use, reusable and eco-friendly single-use products.
With a desire to create products from widespread, natural resources, they also wanted to fashion items that didn't have an Asian feel. The result is a blend of two cultures: Products that answer the needs of Western culture, fashioned from renewable resources that are bountiful in Asia.
"It wasn't our role to replicate existing products in bamboo; we wanted to apply our ideas and design where we were creating something different and something new," Jeff said, pointing to a signature product – a cooking spoon with an integrated rest. The designs in their appropriately-named "Give it a Rest" series keep spoon heads from resting on the counter, inspired by the nodes on a bamboo stalk.
Bamboo Mountain is the term they've given their bamboo sources, where bamboo is grown in the wild, across several locations, and harvested by local farmers that earn a fair wage.
"Our utensils are the only type of utensils that have been accepted to carry the familiar USDA green organic seal we commonly see on fruits and food, but is less common on products," Jeff touted. "Our belief is that the products that touch food should be as clean and safe as the food we are all eating."
Hikers, fly fishers and bikers, it was the Delkins' love of natural beauty and being outdoors that led them to question and re-think products for the travel and outdoor industries.
"The industry is filled with plastic," Jeff said. "It's such an irony that these are products for people to get out in nature but we are arming ourselves with plastic and rubber and synthetic materials."
Case and point: the spork. Flimsy and useless, the plastic spork has a short life and can often be found broken and left lying around at campgrounds. So, the duo created a much more functional, reusable, earth-friendly version. But they didn't stop there. They moved on to travel-friendly kitchen tools and crafted a utensil set with smaller handles, more compact, lightweight.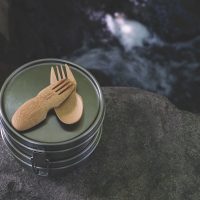 Made without lacquers or glues, many of Bambu's products are created for a lifetime of use. If it comes time to discard a set for one reason or another, you can do so without impacting Mother Nature.
"Leave it behind, burn it as campfire material – all that can be doable and guilt free," Jeff said. "We do make our products with the intention of lasting and that's part of the sustainable story. So, what do you do with a bamboo utensil when you're done with it? Or the more difficult question: What do you do with a plastic utensil? With a bamboo utensil that question goes out the window."
Jeff and Rachel are also working diligently to remove plastic from their packaging. "Even areas customers might not see, we make it a mission to solve," Jeff said. "Continuous improvement is one of our credos."
Much deeper than marketing buzz, their pledge to being ecofriendly goes beyond what they take from and return to the earth. It's a steadfast desire to put their money where their mouth is: As members of 1% for the Planet, they give 1 percent of their sales to organizations committed to protecting the planet.
Bambu has also achieved recognition as a B Certified Corporation, and is just one of 2,500 businesses across countries, disciplines, services and product types that go through rigid assessment and uphold transparent processes in everything from accounting to the treatment of employees.
"The joy and pleasure and challenge of living and working in a culture that's so different than the one we came from – and yet so similar in many ways – is what drives us,"  said Jeff. "This is our only child," he laughed. "It gets our full attention. We really wanted to create an enduring brand that would live and inspire other business as well."