The Birth of the Barebones Brand
Early on, the crack team at Barebones developed a state-of-the-art emergency shelter. While they have taken on more projects and developed a host of other products since, their portable, pop-up shelters have been sent to Puerto Rico, the Bahamas, Nepal, and beyond. They're used as temporary housing during disasters, as impromptu medical clinics, and maternity wards.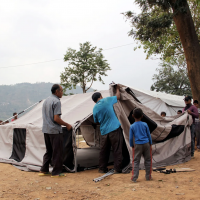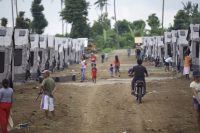 With the rugged demeanor of a rancher, Robert Workman has spent his career finding ways to give back. It's his life's work, where time and again, Robert has created businesses around both profitability and philanthropy. They deliver solutions to those less fortunate, and in the process create products that people everywhere will find useful. Giving back, lifting up, solving problems – those are core tenets of the businesses Robert builds.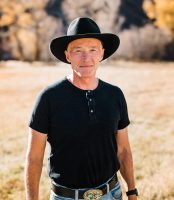 "Our family has always been involved in philanthropic work," says Robert, remembering his childhood. "Those are just some of the morals my parents instilled in us as kids growing up – a work ethic, but also a give-back ethic."
"Ask yourself: If not you, who? If not now, when? Have the courage to act on your inspiration. No one can do it alone; we need a community to help us create positive change."
Much like Airstream founder Wally Byam, Robert's entrepreneurial spirit began at a young age – and led him to numerous opportunities as he grew older. Along with those opportunities, Robert learned how hard work can pay off in the long run. At the age of seven he was popping popcorn and selling it on his block, learning the value of exchange. As a teenager he built pasture fences and realized in the process that if he built it well enough, it might last another 50 years. When he sold his first business, he turned his efforts to philanthropic entrepreneurship. He founded Tifie to build emergency shelters, and founded Goal Zero in order to bring power to rural communities in the Congo. While he's no longer involved with the company, today Goal Zero has expanded around the world and developed everyday power solutions for a variety of uses.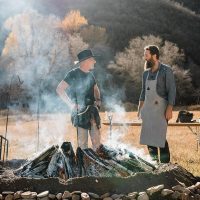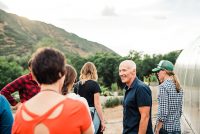 Growing up in a ranching community in Northern Wyoming, Robert learned the value of tools that perform well and last. He learned to value the land and the simple pleasure of living simply. So it was only natural that Robert would return to those agricultural roots with Barebones. From finely crafted axes and hatchets to enamelware that's as exquisite as it is durable, Barebones takes good design seriously as they build some of the finest camp gear we've ever laid hands on.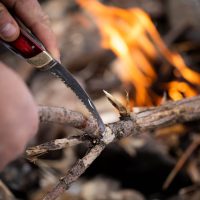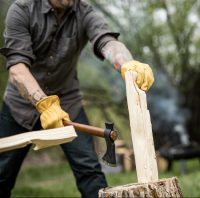 Some our Barebones favorites are their line of beautiful, vintage-inspired Edison lanterns. From string lights to large tabletop lanterns, the Edison light collection from Barebones will light your campsite with dimmable brightness to set the mood. And modern battery and LED technology means the lights are rechargeable, energy efficient, and have a long runtime.
Your Airstream is a blank palette upon which you can create your own style. The dinnerware and servingware from Barebones is some of the most finely crafted and beautiful plates, cups, and silverware we've ever used. Shatterproof enamelware anchors the collection with a gorgeous pale gray tone, while dinnerware is available in both polished and matte finishes.
From Barebones's sister brand NoBox, we've also brought in one of the best value chef's knives on the market. Super sharp, with an included leather sheath to protect it in your Airstream galley drawer, this chef's knife performs like a much more expensive knife for a fraction of the cost. Its impressive cutting ability makes it the first chef's knife to hit the Airstream Supply Co. collection.
We love Barebones. We think you will too. 
Barebones + AIRSTREAM
Shop Now at Airstream Supply Company