40.4395°N, 84.0402°W
Jackson Center, OH, USA
Sometime after World War II, Airstream founder Wally Byam put pen to paper,
committing in writing his personal creed
– the philosophy by which he conducted himself and his business. Today, Airstream is still guided by that creed, building products that help people travel, explore, adventure, and ultimately find themselves. One of the most important sections of the creed is Wally's promise that an Airstream would allow people to travel with all the comforts of home.
For Airstreamer Christina Torcaso, Wally's words rang especially true and inspired her to create her own line of Airstream-inspired soft goods. Now, Airstream Supply Company is excited to offer two of Christina's designs.
Christina's family first began camping a few years ago with a trip through Newfoundland and Labrador. They enjoyed the trip so much that upon their return they sold their old camper and purchased a 2007 Airstream Safari SE. Fans of the fantasy series How to Train Your Dragon, Christina's family named the new Airstream Windshear after one of the story's beloved dragons. After a couple trips, Christina discovered quickly that Windshear was a blank canvas for her to express her creativity and love of Airstream.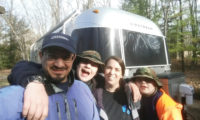 "Windshear is our home away from home – I love customizing her to suit our needs, both in fuction and in decor."
-- Designer Christina Torcaso
Christina began creating customized kitchen accessories with Airstream-themed designs, creating dozens of patterns, designs, sizes, and materials. She tried a variety of options for the towel itself, finally narrowing her choice down to a towel that is large, soft, absorbent, durable.
"I found that I really wanted a simple towel in the Airstream," said Christina. "Most of the time you need a towel you can grab to clean up a spill, or something to quickly dry your hands. You don't need anything fancy – it needs to work."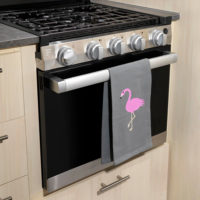 But like the Airstream itself, the towel doesn't have to sacrifice style for function. With that in mind, Christina began printing fun phrases and her own Airstream art on the towels.
"It sort of took on a life of its own," she says. Christina is excited to share her towels with other Airstreamers and hopes that the fun designs will bring them the same joy that she feels every time she steps into her customized kitchen.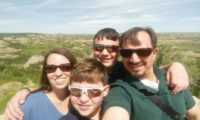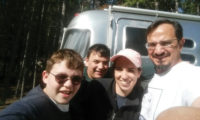 "Each new design is inspired by the joy of Airstream travel and culture. We've found that we have the freedom to go where we want and it has brought us closer together as a family. Plus, we've gained an extended family of like-minded travelers in the Airstream community."
Christina's family loves to participate in the design process as well, often sharing ideas and feedback. In fact, she named her company Benander Designs after her two sons, Benjamin and Alexander. Eager to get on the road with her family this summer, Christina knows that more travel-inspired designs are on the horizon, drawing inspiration from her family's adventures out on the road in Windshear.