35.7596°N, 79.0193°W
North Carolina, USA
River guide. T-shirt salesman. Craftsman. For Alan Davis, CEO of Blue Ridge Chair Works, it was a winding, meandering, roundabout way to create a business born of a love for outdoor adventure and harmony with nature. In other words: The perfect route for a river lover like Alan.
"I just always loved nature and all that, and just by accident and happenstance I got invited to West Virginia to train to be a river guide," said Alan, who accepted the challenge not knowing where it would lead. Years later, Blue Ridge Chair Works is making some of the most beautiful, functional, and durable camp chairs we've ever seen.
From a white water river guide on the Cheat River in northern West Virginia and the Youghiogheny River in southwest Pennsylvania, Alan perfected his skills and became a Trip Leader on the mighty Gauley River in central West Virginia. If running rivers taught Alan anything it might be that the path to the end isn't always clear, but when you come to the opening – untouched, pristine, unspeakable, natural beauty, it's worth the rapids, rocks, waterfalls and unexpected adventure that river running entails. It takes precise skill, remarkable knowledge, endless energy, stalwart stamina and strength, a charismatic, likable, engaging personality, and the will to never, ever give up when a boat of people are relying on you. It wasn't easy, but for Alan it was never work.
"I've had a very interesting, circuitous journey thru life – I started out kind of like I was already in retirement and now I'm working," Alan laughed, although he admits he loves what he's doing, now, too as founder and CEO of Blue Ridge Chair Works. "I started kayaking back in the day before plastic kayaks. So I actually got into woodworking by apprenticing under a legendary master paddle maker, Keith Backlund, a real artisan-craftsman who taught me excellence in craftsmanship. His kayak paddles were artworks."
When screen-printing became popularized, Alan and some buddies started producing shirts with the rafting company logo to sell to the guests. Business took off. Alan hung up his paddles and a wholesale t-shirt business was born. He set up residence with a permanent address – no more living out of a van – and ventured out to buy some furniture for his first place.
"I discovered it was either really junk or really expensive," he said. "So I bought a table saw and built a bed."
And that was the start of Blue Ridge Chair Works – he just didn't know it at the time.
Fast-forward a few years and Alan was invited to take part in a private seven-day trip in the high mountain desert of Idaho on the Lower Salmon River.
"Some folks in our group had these cool chairs but they broke the second day into the trip," Alan said. "When I came home I said, 'I want to build a chair like that, that won't break,' and the Blue Ridge Chair, the flagship, was born."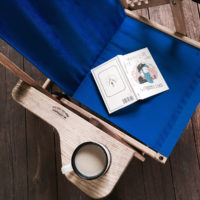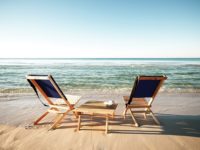 Fascinated by the industrial process, Alan quickly perfected the chair and then created a jig to make more than one.
"I started building maybe ten chairs a week and was selling them faster than I could build them," he recalled. "I got a buddy to come in and we ramped it up."
Then NAFTA hit and the first thing that was affected was the textile industry Alan recalled.
"Stores started selling t-shirts retail for what I was selling wholesale," Alan said. "I drew a line in the sand and said, 'Yesterday I was a t-shirt salesman and today I'm a furniture maker.'"
But it wasn't an easy river to ride in the early 2000s. Not only was Amazon and ecommerce hitting the market, but inexpensive overseas manufacturing was taking off.
"I go to my first little tradeshow, with my cute little wooden chair that will last you the rest of your life, and right next to me is one from China for $8," Alan remarked. "I knew in my heart that there were other people out there like me that would really appreciate the quality and craftsmanship. I like to buy things once – and that's it."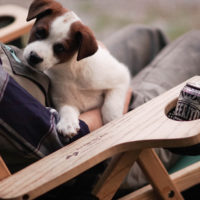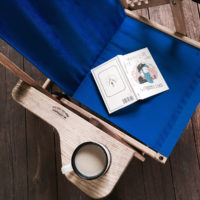 Not long after his first tradeshow reality check, Alan found himself vacationing with the family in Hilton Head.
"I'm walking back to the condo and glanced over to see the garbage can, and instead of being full of beer cans it was full of broken aluminum chairs," he said. "That just kind of rededicated my vow to build furniture that is sustainable and earth friendly, heirloom quality."
Located in the heart of furniture country, in Western North Carolina, Blue Ridge Chair Works is preserving the history of Southern Appalachian Craftsmanship.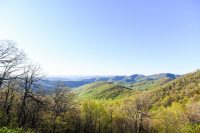 "After textiles, furniture making went to China too," Alan said. "Followed by all the machinery and what got left behind here are these multi-generational craftsman. I'm try to keep a small spark of that heritage of craftsmanship alive. I've created some really meaningful, living wage jobs for some of those people."
In that way, Alan admits, the story of Blue Ridge Chair Works parallels the Airstream story: "Preserving that impeccable level of craftsmanship," in his words.
Selected for its random and beautiful grain structure, solid ash hardwood is the material of choice. It's durable and has been used by the iconic likes of Louisville Slugger baseball bats and Ames axe handles – longstanding brands also based on American craftsmanship.
"This has been my life," Alan said about his story. "How many times do you ever get to do something that's truly a reflection of you? I'm so proud of it. It's not my first go round in business, but I think we've done it in such an impactful way. I'm leaving the earth better than I found it."
"You only have to buy this once in your life – it's going to be your favorite chair and you're going to tell everyone. Most of my customers are customers for life, which is pretty cool."