For over 30 years, California Car Duster has manufactured some of the best cleaning, polishing, dusting, and detailing tools on the market. A legendary brand in the automobile world, Airstream Supply Company is excited to bring these expert tools to the Airstream community. 

The brand, which features a wide variety of automobile care products – was founded by the DeFrank family of racecar drivers and car enthusiasts. Inspired by the hand-held automobile dusters common in Europe, California Car Duster is a unique product that's safe for dusting almost any surface (as always, be sure to test cleaning products in an inconspicuous place before using).
Don't move dust. Remove dust.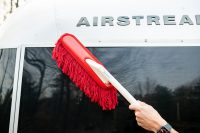 While most dusters commonly available at auto parts stores and online use a sprayed on oil treatment to achieve their dust-collecting properties, that method tends to lose its potency over time. Conversely, the California Car Duster features a cotton blended mop head treated with a baked-in wax process exclusive to their products. The process takes time and costs more than what's commonly available, the proof – as they say – is in the pudding.
"We've actually never seen anything like it. It's not exaggerating. These products work great, and we can't more highly recommend them for cleaning, polishing, and maintaining your Airstream's exterior, as well as the interior."
- Airstream Service Technician William Riker
Daily maintenance with minimal fuss
California Car Duster was founded in 1989 and has become a reliable brand in the automotive world, known for well-made products that make cleaning and detailing easier – and in many ways, more fun. Their products work as well on RVs as they do on automobiles, and with useful features like foldable parts for easy storage, they're easy to take along for a quick spruce up wherever you unhitch. From the detailing kit with two sizes of dusters – one for the exterior and one for the interior of your Airstream – to the extendable Triple Threat Duster that easily allows you to dust the roof of your Airstream without the need for a ladder.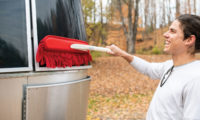 The key is to start with a clean surface. After washing your Airstream, use California Car Duster's surgical-grade silicone drying blades to squeegee the exterior of your Airstream or tow vehicle. Then lightly pass the California Car Duster over the surface of the vehicle to pull dust from the surface. Repeat occasionally to keep your Airstream and vehicle looking shiny and new.

The dirtier it gets, the better it works
While caution must always be observed when cleaning or polishing anything of value (insert obligatory caveat to always test in an inconspicuous spot), the California Car Dusters is as versatile as it is well-made. Taking care to use these dusters with the same care you would a microfiber towel, gently sweep away light daily dust with little pressure for continual maintenance.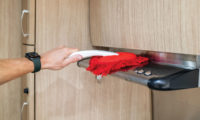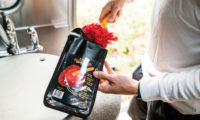 The baked in wax treatment means the company lives by its catchprase – "The dirtier it gets, the better it works." They advise to only clean a duster as a last resort. Simply shake out the duster, or clean it with an air compressor. With proper care, your California Car Duster will provide you years of sparkling surfaces.
Shop California Car Duster on Airstream Supply Company, and add the best cleaning, polishing, dusting, and detailing tools to your travel today.