Coral & Tusk began as the passion project of textile designer Stephanie Housley. A blend of storybook illustration, graphic design, and machine embroidery, Coral & Tusk designs begin as Housley's hand-drawn pencil illustrations on their way to becoming incredible embroidered works of art.
Housley comes from a long line of Appalachian women – resourceful people with the talent to create just about anything out of nothing.
"I never saw a woman in my family with idle hands," she remembers. "My great-grandma made lace and my grandma made dolls. I inherited this busy hand gene, and always did hand-embroidery for fun – just little projects at night."
After fifteen years working as an interior textile designer in New York City, Housley founded Coral & Tusk out of her Brooklyn apartment. At first it was just a hobby, with no pressure to make anything or critical eyes sizing up her designs. "I just did whatever popped into my mind, with no plans or worry about it," she says. "It was so freeing as compared to my full time job as a textile designer."
Over a decade later, Coral & Tusk has evolved into a full-time business, with a loyal following who adore the creativity and craftsmanship in each of their pieces. Today, Housley has traded Brooklyn for the abundant nature of Wyoming. While her designs have always drawn from nature, living in Wyoming has immersed Housley in a world of inspiration.
"Access to deep observation of flora and fauna here is effortless," she admits.
The step by step process of turning one of Housley's sketches into a production-ready design is an intricate balance of analog and digital, as well as a migration from small-scale prototype to retail-ready product runs.
After sketching out the details in pencil, Housley scans each image into a computer and redraws it as an embroidery design, stitch by stitch using special software. The process is less about transforming her sketch into a design ready for the embroidery machine, and more about the symbiotic dance between the two art forms.
"If I began each design on the computer, rather than sitting down with pencil and paper, the quality would be lacking," she says of the process. "Conversely, if the computer software did not exist for me to redraw each line, stitch by stitch, we wouldn't have a viable product that we are able to reproduce at quantity. So pencil and computer are kind of a package deal in terms of creative process, creative satisfaction, and also for designing a scalable product."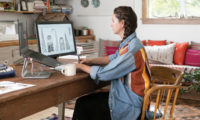 After building the design in the computer, Housley prototypes the design on her embroidery machine, changing threads manually for each new color.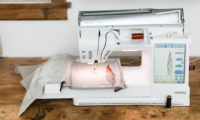 Once the prototype is assembled, the design is sent to Stephanie's partners in India, who machine embroider and sew together each piece. Housley works hand in hand with the workshop, communicating daily as they problem-solve together on design and production issues. Working together, the team creates a scalable product that has the craftsmanship of a one-of-a-kind artwork.
"Without them, we simply could not do what we do," she emphasizes. "This type of machine embroidery equipment and infrastructure – the machinery, the parts, the maintenance – literally does not exist in the United States."
Housley works hand in hand with her team in India, ensuring they receive fair wages for the integral work they do scaling Housley's ideas in small products runs.