47.7511°N, 120.7401°W
Washington, USA
It was love at first sight when we first caught eye of the hand-drawn Airstream travel trailer on the super-soft t-shirt. The love affair proved to be more than just a fling when we saw the other original art coming out of Slow Loris Studio. Hand-drawn by artist Jessica Lynch in her studio on Guemes Island off the coast of Washington, the whimsical animals, crescent moons, and vintage travel trailers featured on Slow Loris apparel take on a life of their own. Jessica's art pen captures intricate details that make her gorgeous images jump off the page – or the shirt, as it were. There are stories in these drawings, and they're brought to life by an artist who sees the wonder in the small things.
A seasoned traveler, Jessica spent much of the mid-90s traveling the country in an orange camper van with a dog co-pilot named Basil. She's been to all 50 states, keeping an eye out for the beauty hiding in unexpected places and not afraid to linger on the mundane, take the detours, and explore beyond the itinerary.
"I'd search out old cars, campers, house, trains – things I loved," she remembers. "I'd draw them, screen print them onto t-shirts and then hope someone else liked them too."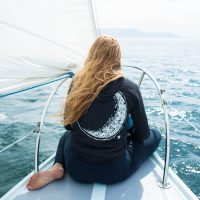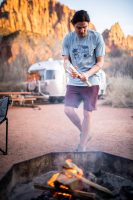 Across many miles of traveling and observing, Jessica developed a mental library that still fuels her imagination and continues to inspire her. It's not always easy, she says, but it's always fulfilling.
"Sometimes I look at all the tiny details ahead of me on a project and I get overwhelmed," she says. "But then I get in the groove and the hundreds of bricks I'm painting with my brush become a welcome meditation."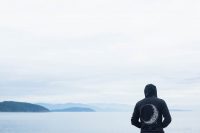 "New ideas live in the making," says Jessica. "Daily creation becomes a need – one I miss on the days I don't make it to my desk."
A graduate of California College of the Arts, Jessica first dreamed up Slow Loris Studio in the storage room basement of an old cannery building in Oakland, California. After relocating back home to Washington state, Slow Loris took off as Lynch mastered the fine art of screen printing.
Over the years she's screen-printed her designs on paper and apparel for bands like TV on the Radio, My Brightest Diamond, and The Lonely Forest. In 2007 she teamed up with a Bering Sea fisherman, Arlo Rumpff, who was ready for a career change. Jessica taught Arlo how to screenprint, and he helped with the business side of Slow Loris, allowing Jessica to focus on her true talent as an artist.
Today, Slow Loris is thriving – drawing, printing, and folding in their solar-powered studio. Their motto of "feeling strong and not in a hurry" reflects the pride they have in creating quality products for over 20 years. It's truly a family business, with both of their significant others (as well as a gaggle of children) helping out.
"Twenty-plus years – and four dogs – later, I now have a husband and daughter, and they love road tripping adventures as much as I do," she says. "Life is even sweeter taking u-turns with them at my side."
Now, we're excited to bring the inspired designs of Slow Loris Studio to Airstream Supply Company. It's a partnership built on the shared value of crafting something the slow way, with attention to detail, patience, and appreciation of good design.
"Getting to work with Airstream is the welcome surprise collaboration I never saw coming," says Jessica.