Bamboo is one of the most renewable materials on the planet. It grows at a tremendous rate and flourishes organically without the use of pesticides, fertilizers, or herbicides. Bamboo can be continuously harvested every three years without damaging the plants – or the surrounding environment. It's strong, versatile, and used in millions of different ways around the world.
Nearly 80 percent of the bamboo used worldwide is grown in Asia. As it's cut and shaped into a variety of products, a lot of it ends up on the floor as sawdust waste. Much of that sawdust is repurposed as fuel to be burned as energy. Ekobo saw an opportunity to take the sawdust waste created at bamboo flooring and chopstick manufacturing facilities and repurpose it as the primary ingredient in a new line of eco-friendly dishware products.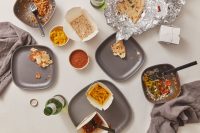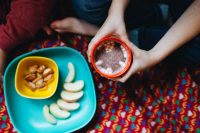 The result is BIOBU® – an alternative to traditional plastics, glass, and other fragile and disposable dishware. A composite material, BIOBU is comprised of bamboo fiber and a 100 percent non-toxic, food-grade melamine binder. Strong, shatterproof, and dishwasher safe, BIOBU products are free of BPA, PVC, and other harsh and toxic chemicals. And the dyes Ekobo uses to color their products are food-grade, non-toxic, and mixed with the powder composite as it's formed – meaning the color is baked into the mass of the product and not coating on top of it.