The idea of Ranch Camp was born on the trails. Evan was working in trail advocacy and joined forces with his partners on a bit of a whim. Through their friendship, an opportunity presented itself in summer 2017 and from there, Ranch Camp was born.
Evan and his partners recognized that the mountain bike community in Vermont was booming. But, there was no basecamp for all the enthusiasts. They wanted to create a base lodge for riders of all levels to kick back, reminisce about the day's ride, and congregate in a group setting. They hoped to create a community of riders at the lodge and they did just that.
On the need for a place like Ranch Camp
"We're passionate mountain bikers. We'd been to these places that combined biking and coffee, or biking and beer – but we hadn't found a place that was a full blown bar and restaurant with a full service biking store."
The connector of mountain biking has linked riders from all different states, and Ranch Camp has certainly lent a hand in that. The location doesn't hurt either: Ranch Camp is strategically located trailside from one of the most popular mountain biking trails in the area. It is also right off of Mountain Road (VT 108), the main thoroughfare through Stowe.
Not to mention, Ranchcamp truly is one of a kind. All artwork hanging in the Ranchcamp is illustrated by one of Evan's partners and the food menu is a beautiful blend of pub fare and health conscious grub.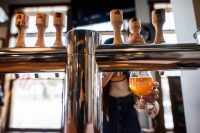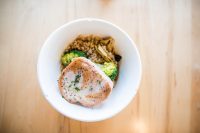 "It's high-energy food," says Chismark of the offerings on Ranch Camp's menu. "Food that's suitable for active people, but also healthy. We do local hand-cut French fries, local beef hamburgers, plus kale salads. We're keeping things healthy, but tailoring it to people who are out being active."
The menu also offers a number of vegan and gluten-free options beyond the typical roasted vegetables.
"We wanted to make a dedicated effort to make the menu vegetarian-friendly," says Chismark. "We wanted non-meat option that people would enjoy – things they can eat and it'll stick to their ribs."