For over a decade, Dr. Nordgren has been bridging the gap between his interest in astronomy and his creative skills as an artist through a series of posters created in partnership with the National Park Service. Urging visitors to "See the Milky Way," Dr. Nordgren's posters take inspiration from the classic New Deal-era WPA posters that encouraged tourists to explore the sights and scenes available in our National Parks. What started with a single poster Dr. Nordgren wanted to use as an illustration in his book has evolved into a national poster campaign with well over 60 posters for parks across the country. Through it all, Dr. Nordgren has employed a clever twist of language, flipping the script on the traditional uses of America's National Parks and reminding people that "Half the Park is After Dark."
"If you don't go outside at night you are missing half of what this park has to afford – you're missing half the show," Dr. Norgren says of the phrase he developed in 2008 when he first began his poster project. "Back then, more and more park lodges were installing televisions and people were bringing satellite TVs with them while camping. I was trying to encourage them to turn the television off, and get outside to see this incredible resource."
Dr. Nordgren has seen the results of his work firsthand.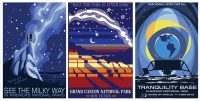 "Park Rangers and Superintendents used to ask me why I was there," he remembers. "They didn't understand – they'd ask me 'What does this park have to do with astronomy?' Now here we are 10 years later and I don't recall the last time I had a Park Ranger question me – they all know that the sky begins at your feet."
The National Park Service itself took notice, making dark skies a primary goal as they celebrated their centennial in 2016. And today, many of America's National Parks have been certified as International Dark Sky Parks by the International Dark-Sky Association, including Big Bend, Canyonlands, Capitol Reef, Death Valley, Grand Canyon, Joshua Tree, and many others. In fact, there are so many parks nationwide that have made dark sky preservation part of their mandate – among other things: limiting streetlights, locating the best spots for skywatching in places far from car traffic, and allowing overnight observation – that you don't have to drive far to find truly dark skies.
"Beyond skywatching, the parks also offer a variety of ways to explore astronomy," says Dr. Nordgren. "The amazing red features you see in southern Utah and northern Arizona are red because of iron in the rocks reacting with oxygen to form rust – Mars, the Red Planet, is red for that same reason. As you're traveling and camping around southern Utah, you can kind of imagine what it might be like on Mars."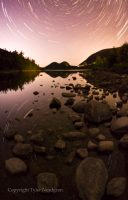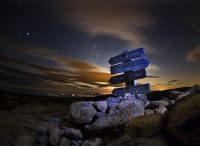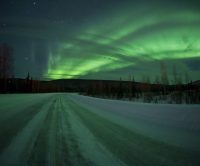 The similarities don't end with the red dust under your boots. The buttes, canyons, and mesas of the American southwest were formed by flowing water, says Nordgren. "Images from orbit show what looks like ancient channels where water might have flowed, say 2 or 3 billion years ago. Many scientists agree that the rock formations on Mars were formed in much the same way rock formations were created here on earth."
Whatever reason you travel to America's National Parks, it's worth keeping in mind Dr. Tyler Nordgren's slogan that "Half the Park is After Dark." The sightseeing doesn't have to end when the sun goes down.