A healthy lifestyle incorporates the mind and the body. Travel – with all its new places and new experiences – challenges our mind to expand. It's easy to find physical and mental fitness wherever you travel. It's in your walks through the cobblestone streets, the hikes into the forest, your route through the fresh powder and the stroke of your paddle through the water. True, we don't always travel for outdoor experiences. But camping inherently brings us closer to the outdoors. We can get closer to the adventures we crave, the solitary expanses that put us at ease, the rock-strewn backwoods hikes that challenge our muscles as well as our stamina. Not every camping trip has to be an epic adventure, but every camping trip is an opportunity to unplug, slow down (or speed up), and listen to the world around you.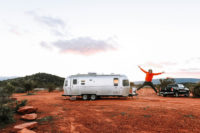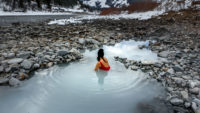 There's no ignoring the elephant in the dinette here: There are miles between here and there, and getting to those life-changing experiences in far-flung places involves a lot of hours sitting stationary, either behind the wheel or in the passenger seat. While travel exercises our mind, towing your Airstream can put a strain on your body as you sit for hours on the road. Many of us travel to get out and see the world – to get off our couches and have an adventure. For many that means hiking, cycling, kayaking, or other strenuous outdoor sports. Even for those less adventurous, a day of hiking can put serious strain on your muscles, joints, and bones. If we want to get the most out of our travel, a healthy lifestyle and attention to fitness means being ready for whatever adventure comes along.
Fortunately, staying fit while traveling is often a side-effect rather than a necessary evil. Our Airstreams get us to far-flung locales, out beyond the end of the road, in the forest, near the river. We go to these places to enjoy them, and while everyone's fitness level is different, we can all agree that a relative fitness level that allows you to hit the trail, climb, and maybe scrabble across a couple boulders adds to the fun and excitement. Activities like hiking, biking, rock climbing, kayaking and canoeing are regular pastimes in the Airstreamer world. For every Airstream you find at the campground, there's likely a kayak or a set of trail hiking poles that go along with it.
Likewise, eating healthy can be difficult with the limited choices offered on the American roadside. If you're savvy with technology it's easier to find the healthy choices tucked among the seas of fast food. But for the Airstreamer, there's a better answer: Your onboard kitchen galley means you can stop anywhere and make something yourself – something healthier, less expensive, and "faster" than the food you'd get at the drive-through.
"We joke that many full-time RVers gain the freshman fifteen," said Christine Willers, who travels full time with her husband Aaron in an Airstream Interstate 24. "It's easy to treat every day like you're on vacation. You're not moving around, you're sitting by the pool or on the beach, you're eating out – sometimes every night, every lunch. It adds up."
Travel is an adventure. Make dinner an adventure too.
Christine said addressing your travel meal routine first is essential to staying healthy on the road. Just shopping at the grocery store, keeping food in your Airstream fridge, and cooking in your galley are smart choices, rather than going to a restaurant. It makes a big difference, she said, if you can trim even one or two take-out meals (depending on the frequency you go out). Getting over that first hill is the hardest, and then it's easier and easier to keep winnowing down unhealthy take-out fare.
Experimenting with cooking, expanding your palette, and challenging your tastebuds will help you start weaning yourself off an unhealthy diet. If you're already eating healthy, it'll challenge you to find new and exciting ways to work with ingredients.
"Your idea of 'eating local' changes big time when you're living and working on the road while you travel," said Christine. "There are incredible farmers markets where you can find produce that's not available anywhere else."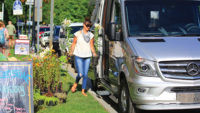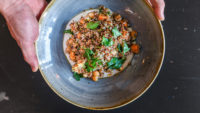 Because much of the food you find in American grocery stores has been specially cultivated for its durability in transport, local farmers markets are great places to find the fruits, vegetables, dairy, and meats that are too delicate to travel in trucks down the highway – foods that are delicious, colorful, and tender because they haven't been cultivated for their durability, but for their taste, texture, and smell. You learn that there are dozens of variety of sweet potatoes available in North Carolina, a million shades of BBQ in the south, apples so colorful and crips and different from the Granny Smiths and Fujis you see at the supermarket that you might think they're of another planet.
If you're a carnivore, ask around to discover local meat markets. You'll find regional sausages, local game, and extraordinary ingredients. If you're near the sea, find fish markets and get up early – anyone who's bought a fish right off the boat and grilled it that night at the campground will tell you it's worth rising with the sun. Likewise, shellfish, oysters, clams, shrimp, and soft-shell crabs are often available fresh, unfrozen, caught the night before. Ask for advice about how to prepare, but don't be afraid to figure it out on your own, or make your own creation. The simple act of eating fresh, local, and conscientiously means you've made great choices for your body and mind.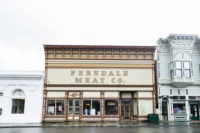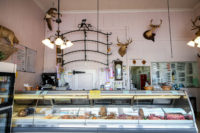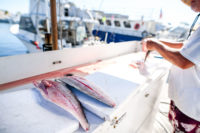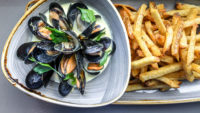 Likewise, cooking over fire presents new challenges – and new ways to create incredible meals. There's no flavor like the one imparted by real woodsmoke. The process of building and tending the fire is good for the soul. Gathering the kindling, stacking the wood, crumpling the paper and lighting the fire. Tending it, encouraging it, fanning it until it's ready. It's a process rooted in thousands of years of experience, and it'll amaze you what you can do over a glowing bed of coals. All you need is a grill grate, a cast iron pan and a good set of grill tools. Add fresh vegetables, local meat or seafood, and get ready to embrace a cooking lifestyle that will serve you for a lifetime.
Whether ordering-in or cooking at home, the key to a healthy diet is portion control. Eating too much of any food, even a nominally healthy one, is a problem.
"Try incremental changes, and experiment with different ways of cooking things," said Christine. "And keep an eye on portion control – just because something's healthy doesn't mean you can eat as much as you'd like."
The exception to the rule is water, said Christine. One of the best ways to regulate your appetite and increase your energy level is stay hydrated.
Many of our travels lead us to places where exercise is part and parcel of the experience. Our National Parks, National Forests, and federal public lands as well as numerous state resources are hubs for hiking, cycling, rock climbing, canoeing and kayaking, winter sports, yoga, and running. Parked in a campsite or boondocking off the grid, it's easy to park yourself where fitness-filled adventures are right outside the door.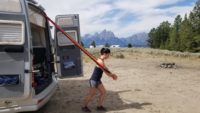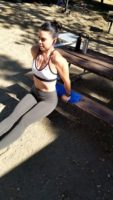 "We'd prefer to workout in the gym," said Aaron. "But it's not always possible to find a local gym when you're traveling, and the pandemic has made it even harder. Luckily, you can do a lot of great exercises with minimal equipment, whether you're at home or in your Airstream."
Aaron prefers a set of adjustable dumbbells, which are small and easy to stow and readily available online.
"But body weight exercises are just as good," he said. "Push-ups, sit-ups, lunges, planks, air squats – those are great bodyweight exercises that you can do just about anywhere. A good yoga mat gives you a nice padded surface either inside your trailer, or at the campsite."