The world has changed. And yet, we are still travelers, explorers, thrill seekers, and learners. Many of us are working from home. Others have more flexibility with work. The education of millions of children now mirrors the work life of their parents. Teachers are presenting lessons via video chats. Parents have become the education frontline.
Home is now synonymous with the office, the classroom, the gym, and more. And we have discovered a few things along the way. Many are saying there's another way to do this. Maybe it's not better. Maybe it's just different. And maybe that's the key.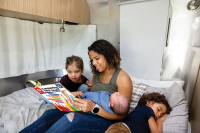 It used to be that the Airstream full-timer was the bleeding edge of this vibrant travel community. They sold their houses, downsized their possessions, and hit the road on the adventure of a lifetime. They understood that living, playing, working, and learning on the road was not only possible – it was almost perfect. Every day was a learning experience: Learning how to tow, how to manage water and waste, how to live simply and efficiently. Along the way they saw this country – this amazing tapestry of landscapes, habitats, resources, and people. And travel afforded their children a hands-on, experiential way of learning.
But with global uncertainty at front of mind, a significant portion of Airstreamers – both new to the community and longtime owners – are hitting the road as what we might call half-timers. More than weekend warriors, more than the folks who hit the road for one or two longish trips a year, these medium-timers have found themselves emancipated from their office, untethered from bus schedules and schoolday routines, and they've realized they can head out for an even longer trip. They work from the dinette. They take calls on hikes. They have virtual meet-ups with teachers and classmates while sitting at the picnic table under the trees and the sky. Their lunchbreak is a mountain bike ride on the trails. They are playing, working, and learning wherever they are – wherever they want to be. When it's time to go home, they pack up and return to their brick and mortar home. And when the wanderlust strikes again, they plot a course and hit the road.