It was then that Max started experimenting with wood lamination and snowboard construction.
"I grew up in NYC and I used a skateboard for transportation," he says. "I started thinking about how the skateboard construction method and technology could translate to snow."
Typically, mass-produced snowboards are composed of a wood core sandwiched between layers of plastic. "I wanted to do something different," he says. "I was constantly trying to figure out a better alternative."
One of his experiments involved vacuum forming a snowboard, after applying glue to many layers of wood veneer. "I'd glue all the layers, stack them like a sandwich, align everything and stick them in the plastic vacuum bag," he laughs. "I would then seal off the end and suck out the air with a vacuum pump. The vacuum created a couple thousand pounds of pressure and squeezed the layers together. It wasn't scientific in any way. It was experimental."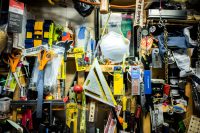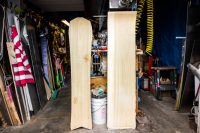 Max started experimenting with all-wood lamination prototypes that eventually formed the basis of MTN Local snowboards. MTN Local uses Entropy brand resins to glue the components together – a plant-based epoxy that's both durable and environmentally friendly.
Eventually, Max built his own industrial-grade, 2000-pound steel I-beam snowboard press from scratch in his shop. The result: MTN Local is creating some of the most original, eco-conscious, and creative snowboards on the market.