It's hard not to love the pennants and flags crafted by Oxford Pennant in Buffalo. Whether you're hanging them on the wall of your home office or displaying them proudly at your campsite, these gorgeous decor pieces convey a rare sense of sentimentality, comfort, and community – with a generous helping of fun mixed in as well. Now, we've teamed up with our friends at Oxford Pennant on an exclusive line of felt pennants and camp flags inspired by designs, advertisements, and iconic Caravan imagery drawn from the Airstream archives.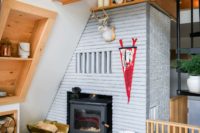 Designed and manufactured in Buffalo, New York, Oxford Pennant leans heavily on the same design philosophy that we do at Airstream: American-made, quality products that bottle the magical feeling of nostalgia with an eye toward the future. Founded in 2013 by two guys who met on a business trip and bonded over their shared love of nostalgia and the tradition of felt pennants, they quickly gained a following for their distinct way of leaning into the past with eyes firmly on the future. Once revered as a time-honored keepsake, felt pennants had fallen by the wayside and existed mostly as low-quality souvenirs produced with synthetic materials.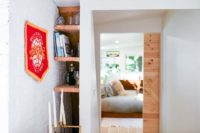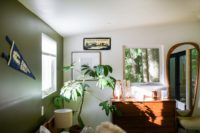 Oxford Pennant revived the noble tradition of the felt pennant with quality materials, attention to detail, and expert designs. They lined up incredible partnerships with world-famous brands (Harley Davidson, J.Crew, Jordan Brand), bands (Goo Goo Dolls, Wilco), and football teams (like their beloved Buffalo Bills). Made with a hands-on process at their manufacturing studio in downtown Buffalo, these pennants, camp flags, and banners will last a lifetime – and convey a distinct sense of cool you can't find anywhere else.
Designs Inspired by the Around the World Caravan
At the heart of the Airstream + Oxford Pennant collection is a selection of pennants and flags inspired by one of the most ambitious Airstream adventures in history: The 1963-64 Around the World Caravan. After shipping dozens of Airstream travel trailers across the Pacific, the Caravan began in Singapore and over the course of 14 months wound its way through Southeast Asia, the Middle East, and Europe before concluding on the shore of the Atlantic in Portugal.
Mac Smith was hired as the correspondent for the trip, and he documented the journey in his 1966 book Thank You Marco Polo: The Story of the Around-the-World Trailer Caravan. His family accompanied him on the trip, and we sat down with the Smiths to create an inspiring video about the adventure.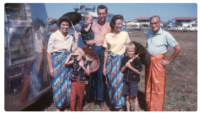 Now, the magic of the Around the World Caravan comes home with a selection of felt pennants and flags inspired by this incredible adventure.