Destination: Dark Skies
Whether you're a stargazing newbie who occasionally glances up while outside at night or a seasoned stargazer who's completed a Messier Marathon, Airstream Supply Company has scouted the United States to find the darkest skies for you. We've also cast our net wide for great spots to explore space and astronomy during the daylight hours. Read on for more Round Trip recommendations.
Best Dark Sky Parks, Campgrounds, and Preserves
Cosmic Campground
With a name like Cosmic Campground International Dark Sky Sanctuary, it's no secret that this campground in New Mexico's Gila National Forest is a great spot to set up a telescope. The nearest source of artificial light to this campground is more than 40 miles away, off in Arizona, and it has become a popular destination for amateur astronomers for its unobstructed, 360-degree views. It offers concrete telescope pads, and it's strongly suggested that campers use red-tinted flashlights and arrive well before dark to avoid disruptive headlight use.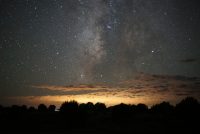 It's free to stay here, but the campground operates on a first-come, first-serve basis. It's also primitive, with vault toilets and no running water or electricity. There are plans to further develop the facilities here, though, which is awesome. As an International Dark Sky Sanctuary, it's more than likely that you'll be joined at the site by other stargazing enthusiasts, and star parties are frequently held here. Even the campground hosts can help you identify objects in the night sky.
Garden of the Gods
Garden of the Gods is a stunning park that's located just far enough away from Colorado Springs to have some notable stargazing. The park is free to the public and open until at least 9 p.m. every night (11 p.m. from May 1 to October 31), but you'll want to get there before the sun goes down because this park is absolutely jaw-dropping during the day.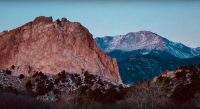 Massive, towering red rocks seem to explode from the ground, surrounded by scrubby greenery. There are plenty of hikes of varying lengths and difficulty levels, and the rock climbing is out of this world. And those views! Even when stargazing, you'll be able to see the snow-capped top of Pikes Peak in the distance.
The Headlands International Dark Sky Park
At the very tip of Michigan's Lower Peninsula is an undeveloped stretch of Lake Michigan coastline called the Headlands, which was declared an International Dark Sky Park in 2011. The park hosts programs on all kinds of astronomy-related topics, from astrophotography to space-themed bar trivia. There's an observatory here, but it's mostly closed to the public (except for the adorable little gift shop).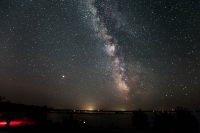 Stargazing is best done during a new moon wherever you go, but even more so at the Headlands, where light reflecting off the water magnifies it — but rest assured that on a good night, you can see the Milky Way and other features with your naked eye. While camping isn't permitted, they encourage you to bring blankets, snacks, or even sleeping bags so you can get cozy while you admire the universe.
When you visit, bring a flashlight with a red filter on it; it cuts back on light pollution and makes it easier for everyone to admire the stars, but it can be hard to navigate the trails in the dark without any light at all. And remember that even light from a phone or tablet could be enough to affect the quality of darkness.
Lost Lake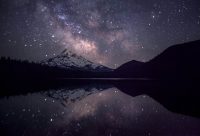 On a dark, clear night in the Mount Hood National Forest, Lost Lake acts as a mirror, reflecting back a view of the star-studded night sky. You can canoe or kayak or even stand-up paddleboard on the water while stargazing, adding to the effect that it really is just you alone, surrounded by twinkling stars. Or, pack in a telescope to the Lost Lake Campground to peer even deeper into the depths of the universe.
Mount Washington Observatory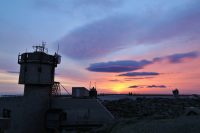 The Mount Washington Observatory Weather Discovery Center likes to joke that it's the home of the world's worst weather — but when the skies are clear, it's one of the best spots in New England to spot stars. The Weather Discovery Center has been known to host star parties and overnight adventures (including a special winter overnight when many roads and facilities are closed, complete with a snowcat ride up the mountain). Tour the working weather station and meet the scientists who staff it during the day, and soak up the views of the night sky from 6,288 feet up once the sun goes down.
To get to the station at the mountain's peak during the spring, summer, and fall months, you can either hike up or take the famed Mount Washington Auto Road in your own car or on a tour bus. Pro tip: If you take your own car, the toll includes one of the iconic "This Car Climbed Mount Washington" bumper stickers.
Cherry Springs State Park
Cherry Springs State Park is well-known among amateur astronomers on the East Coast, as it's the only certified Dark Sky Park in the area. The reason it's got such primo stargazing is because it's located in the heart of the mostly-undeveloped Susquehannock State Forest, atop a plateau 2,300 feet above sea level. There are no mountainous peaks to block views of the sky, and light pollution levels are the lowest you can find anywhere on the East Coast.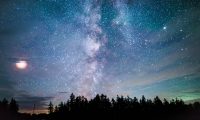 As the park gained a reputation for its view of the night sky, efforts were taken to bury power lines, to plant shrubs to obstruct the light from passing vehicles, and to shield all other lights (or convert them from white light to red light, which has less of an effect on night vision). The park has even built several astronomy domes so that stargazers can set up their telescopes in a place where the wind won't move them while they're in use. They come complete with electrical outlets and WiFi.
Optimal conditions for stargazing occur 60-80 nights a year, although any time during the 14-day period around a new moon works. On a good night, you can find up to 100 eager astronomers peering through telescopes, and their twice-a-year star parties attract hundreds of people to the park. If you don't own a telescope or nice binoculars, or if you come on a cloudy night, you can still enjoy camping and hiking at the park.
Badlands National Park
During the summer, rangers at Badlands National Park host a night sky viewing at the Cedar Pass Campground Amphitheater each evening from Memorial Day through Labor Day. Telescopes are provided, and rangers help point out and explain constellations, stars, and planets. It's meant to allow everyone a chance to fully experience the legendary dark skies of the Badlands. On any given night, a camper can see up to 7,500 stars and the arms of the Milky Way lighting up the night sky; on a clear night in a small city or suburb, you can usually only see a few hundred.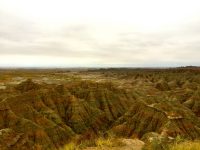 Badlands National Park also hosts an Astronomy Festival one weekend every summer. It brings together space science professionals, amateur astronomers, school children, park visitors, and local families for activities during the day and talks and telescope viewings at night. It's totally free with park admission, and teaches a new appreciation for Badlands' rare dark night skies.
Grand Teton National Park
Grand Teton National Park offers some of the best stargazing in Wyoming. The high elevation, fresh and clean air, lack of light pollution, and vast stretches of the visible night sky all combine to offer a crystal clear view of the galaxy. You don't need a telescope to spot constellations, the arms of the Milky Way, or possibly even the Northern Lights during winter. It's not hard to spy objects in the night sky with or without the aid of a telescope.
Campgrounds like the one at Colter Bay are perfect spots to enjoy the views of the universe. If you can make it over to Mormon Row as the stars start to appear, you can snap some amazing photos of the Milky Way hanging in the sky above the old barns. The Antelope Flats/Mormon Row area is one of the widest-open areas with the least light pollution. Moose-Wilson Road at the South Entrance of Grand Teton National Park also features expansive, unblocked views of the sky. Or, head to the edge of the National Elk Refuge for another spot to see stars.
Glacier National Park
Just when you thought Glacier National Park couldn't get any prettier, imagine seeing it illuminated by bright ribbons of color dancing across the night sky. Yep, we're talking about the northern lights. Some tips for aurora hunting in Glacier: Winter, late fall, and early spring are the best times for experiencing the phenomenon, usually around midnight or 1 a.m. Facing north and staking out a spot in an area with little light pollution gives you the best chance to see some action, and remember to bundle up, because it might be chilly!
Summer is still a great time to stargaze in this national park, even if you won't get to see an appearance by the northern lights. Really remote areas at higher elevations, like Sinopah Mountain, are the very best options for the best views. Glacier and its Canadian sister park just across the border, Waterton Lakes National Park, have been designated an International Dark Sky Park. Plus, Glacier's rangers also host many night-sky themed programs and occasional star parties through partnerships with local astronomy clubs and national organizations.
Alyeska Resort
Spotting the northern lights is a bucket-list item for many, and since they're unpredictable and best seen under cold, dark conditions, it's definitely a once-in-a-lifetime experience. Spending a few days at a resort in Anchorage during the winter is a great way to almost guarantee a sighting.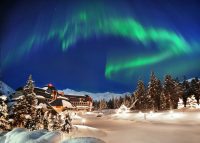 Devote nights to the skies and days to the slopes. Alyeska Resort is Alaska's largest ski resort, and the 304-room property in the mountain town of Girdwood is a prime basecamp for groomed and backcountry alpine skiing, cross-country skiing, and even dog mushing. And if all that outdoor activity leaves you needing some shut-eye, the resort offers a northern lights wake-up call to notify you when the auroras are out.
Canyonlands National Park
Canyonlands National Park (specifically the Island in the Sky Unit and the Needles Unit), along with Arches National Park and Dead Horse Point State Park, make up another International Dark Sky Park along the Colorado Plateau. Rangers have made efforts to install "night-sky friendly" lights and fixtures to further enhance the stargazing. Needles and Island in the Sky both offer stargazing ranger programs, complete with telescope viewings.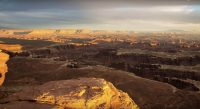 Canyonlands likes to emphasize that dark skies are important for more than just stargazing; light pollution can severely impact the ability of animals, such as birds and insects, to navigate in the dark.
Anza-Borrego Desert State Park
The Anza-Borrego Desert is California's largest state park, and, as we know, with large amounts of undeveloped wilderness comes quality stargazing visibility. But even the town of Borrego Springs, in the middle of the park, is dedicated to protecting the views. It's the first International Dark Sky Community, having taken extra steps to reduce light pollution so that residents can truly enjoy the night sky sights. They've installed dimmer streetlights, encouraged businesses and residents to use less bright lights, and have even adjusted the aircraft beacon at their airport to be more dark sky-friendly.
If you're really dedicated to making the most of a star-spotting trip here, head for Astronomy Way. This is the darkest spot in the park in an area perfectly positioned so that mountains block ambient light from distant cities. A general rule of thumb for stargazing here? Find lower elevation points; higher elevation means you're more likely to have views marred by light pollution. Or look into Borrego Night Sky Tours, which is run by a local astronomer who has a high-powered telescope and a wealth of knowledge about the stars and planets.
Big Bend National Park
Big Bend National Park is the darkest national park in the lower 48. There's barely any light pollution, and you can see over 2,000 stars on any given night (compared to a few hundred in most small cities). In addition to the remote location, the dark skies are further protected by the NPS with LED and shielded lighting. Exceptional spots for stargazing include the Hot Springs Canyon Trail and the Rio Grande Village Nature Trail, near the Rio Grande Village Campground.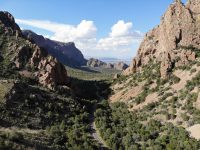 It's also near the town of Marfa, which offers another one-of-a-kind nighttime sight: the Marfa Lights. This unexplained phenomenon has been a popular local legend for years. The mystery lights are most often described as an orb or serval orbs that glow intensely and can either remain stationary, dart around, or even split into multiple orbs. They're often white or yellow but have been seen as green, blue, and red. The lights are often first mistaken for car headlights—until they start moving in unnatural ways.
There's an official viewing center off Highway 90 where you have a good chance of seeing it for yourself. There's also McDonald Observatory, which houses four massive telescopes and offers frequent star parties. It's only two hours from the park, and is well worth the trip out.
Cheaha State Park
Cheaha is the highest mountain in Alabama, and the high elevation makes for solid stargazing. The light pollution situation in this part of Alabama isn't too bad either, as it's a good hour and a half from Birmingham. Set up camp at the Cheaha State Park campground and then pick one of the open fields scattered around the park to get out your gear. Or, go low-tech with a blanket—there's nothing quite like lying down and looking up at the stars. Just make sure you plan your visit here to coincide with good weather and clear skies.