Follow Airstream north in search of the best fall colors, the coolest spots to grab a bite and beer, and where to set up camp so you're ready to do all again tomorrow.
Journey to the (Northeast) Kingdom
Named almost accidentally by Vermont Governor George Aiken in a 1949 speech, the Northeast Kingdom sprawls across the northeast corner of the state. Start your trek at picturesque Lake Willoughby, where mountains rise out of the water in a blanket of trees. In the fall, the trees are a riot of orange, red, and yellow mixed with all the hues in between. There's an amazing campground right on the water's edge called White Caps Campground. After spending the day driving around, exploring, you'll tuck into the quaint, homey little campground next to a lake that was once named the Third Best Lake in America. The staff is more than welcoming and they even have hot coffee in the AM. Most of the spots have lake views and there's plenty to rent in terms of kayaks and canoes.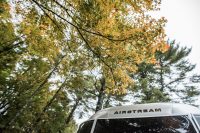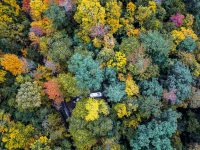 Deeper into Danville, VT
From the Northeast Kingdom, drive we drove south to Danville – another hot spot for foliage viewing. If you're feeling like your narrow-road navigation is up to snuff, it's worth it. Set up camp at the Sugar Ridge RV Village Campground where you'll find professional staff and full hookups. Their 150 spots (over 68 acres) all had character, were mostly secluded, and you're likely to feel like you're the only person there. It's the perfect launchpad for all your foliage explorations.
Randolph, VT
Central Vermont has a certain charm that is different from the state's northern reaches. If you're looking for a scenic drive, look no further than RT 100, especially between Stowe and Randolph. You'll meander your way through Waterbury, Waitsfield (home to Mad Taco and Sugarbush Ski Resort) and Green Mountain National Forest, only to find yourself in a town straight out of a Vermont-themed coffee table book. Simply put: Randolph rocks. It's home to Vermont Glove, an artisan leather glove maker – and it's also home to the best Thai restaurant in the state, Saap. As you meandered your way through the Green Mountain National Forest, make time for a pit stop at Foley Brothers (among Vermont's many amazing craft brewers, Foley Brothers is one of the best). You'll find a foliage oasis at Abel Mountain Campground (technically Braintree, VT) and this campground cannot be missed. Situated along a small river bank, Abel Campground offers hiking trails, friendly faces, and easy in-out spots. There is a sense of community at Abel Campground that you can really feel when you arrive.
Down to Dorset, VT
Some would say that southern Vermont and northern Vermont could operate as two different entities. It may be true, as southern Vermont has a slightly different vibe than its conjoined twin further north, yet both would qualify as "Vermonty." You have Stratton, a well-run ski resort that draws crowds from Boston and New York, as well as Manchester, home to outlet shopping, restaurants, and a massive horse show that runs all summer long. If that's not enough, check out J.J. Hapgood General Store – a rocking restaurant/provision store that dishes out incredible wood fired pizza among other gourmet plates. They also have one of the best beer lists in southern VT. Unhitch at Emerald Lake State Park, a deceivingly large campground that seems to go on forever. Tucked high in the mountain above the Emerald Lake, this park is the perfect backdrop for your Vermont experience. Despite having no hookups, Emerald Lake State Park is worth it if you're really looking to get out there.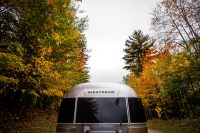 Stowe, VT
It wouldn't be a true Vermont foliage tour without hitting this highlight. Stowe has been rated the number one place to view fall foliage and we can't argue, since the proof is in the number of tour buses and foliage-hypnotized tourists that come through town between the last week of September and the second week of October. In Stowe, there are endless places to view the trees – even a routine drive to the grocery store feels like a driving tour through an art gallery. As you're surrounded by beauty each way you look, there are still some key places to be sure to check out. Don't miss the famous Notch Road that links Stowe to Smugglers Notch. Leave the Airstream at the campsite as you venture into this tree-viewing paradise. This winding, occasionally one-lane road dips and dives between boulders and engulfs you with leaves of all colors. From the notch, you can drive back down to Stowe Mountain Resort and ride their gondola to the top of Mount Mansfield, Vermont's highest peak. The gondola gives a 360 degree aerial view of the foliage that makes even the birds envious. To witness this natural phenomenon, you can post up at Gold Brook Campground, just a 15 minute drive from Stowe Mountain Resort. Stroll down Main Street, sip on craft beer, and delve into farm-to-table food: Stowe offers everything you've ever read about in a Vermont travel book. Gold Brook Campground has quite a few spots, but not enough to handle the volume of peepers coming into town. That said, we'd definitely recommend making a reservation. The spots are well situated, easy to maneuver, and most have full hookups.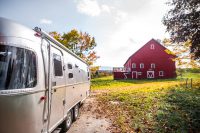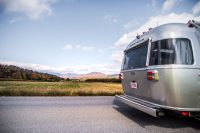 One of the greatest blessings in this Airstreaming life is being able to explore places that sometimes are right in front of you all along. Vermonters have a knack for celebrating all seasons and fall is certainly one of them. Witnessing the changing of the leaves in Vermont should be on everyone's bucket list, as it truly is one of our planet's greatest works of art.

If you want to venture beyond the campgrounds we listed – or if your travels take you beyond the Green Mountain State – check out Airstream's guides to the best fall camping.