Best Place to Grab a Beer (from an Airstream Bar)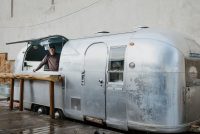 Benson's Tavern & Beer Garden
If you're looking to belly up at the bar for some of Colorado's famed craft beer, look no further than Benson's Tavern & Beer Garden. They have a full bar (including a ton of local beer on tap) and a kitchen serving up perfectly greasy pub grub. The friendly atmosphere is enhanced by live music, vintage signage and taxidermy, and an outdoor bar built into an Airstream that lives on their patio. Salida has plenty of bars and restaurants to choose from, but nothing beats a cold beer and green chile cheese fries while listening to music and enjoying the fresh Rocky Mountain air.
Best Place to Soak, Swim, and Cool Off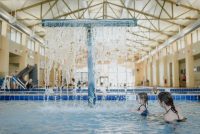 Salida Recreation and Hot Springs Aquatic Center
The Salida Recreation and Hot Springs Aquatic Center is the country's largest indoor hot spring facility, and is not to be missed. All-natural hot spring water is piped in from a geothermal pool a few miles away and used to fill the two pools. There's a larger, 25-meter pool with lap lanes and water that stays around 84 degrees, and a smaller leisure pool with warmer water, usually around 98 degrees. Whether you want to take a relaxing soak or take advantage of the aquatic climbing wall and slide, you've come to the right place.
Best Campground Near Salida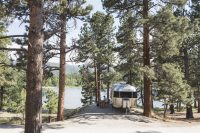 O'Haver Lake Campground
If you're willing to head a bit out of town, you can take advantage of one of the best hidden gem campgrounds in the country. O'Haver Lake Campground might have rustic amenities, but it's popular for one main reason: the unforgettable views. Seriously, it looks like something out of a Bob Ross painting. It's located right on the shores of O'Haver Lake, which is surrounded by stands of vanilla-scented Ponderosa pine and aspen, with mountain peaks off in the distance. If you have a canoe or kayak, bring it along to take out on the water. The lake also provides some good fishing as well.