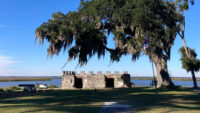 The Golden Isles, GA
Find the rhythms of the rising and falling tides, explore marshes and sand bars, and let the Spanish moss dangle overhead in the Golden Isles of Georgia.
A compilation of four barrier islands surrounding the port town of Brunswick, GA, the Golden Isles of Georgia are often overlooked between the vast beaches of Florida to the south and the well-known Savannah, Charleston, Hilton Head stretch to the north.  While technically inclusive of St. Simons Island, Sea Island, Jekyll Island, and Little St. Simons Island, we're focusing on the most RV-accessible Jekyll Island and St. Simons Island – though day trips from your homebase to Sea Island and Little St. Simons (and even nearby Cumberland Island) are still attractive options.
Where We Stayed
Nestled under the idyllic oak trees and Spanish moss, at the northernmost tip of Jekyll Island is Jekyll Island Campground, a homey spot with easy walkable or bikeable access to beaches, fishing piers, horseback riding, and trails that take you anywhere on the island.  Although the surrounding area offers much to be explored, one favorite is the campground's own bird sanctuary, which might be the very place your kids fall in love with birding.  Not only is the campground a gem, it's the only one located on any of the four Golden Isles.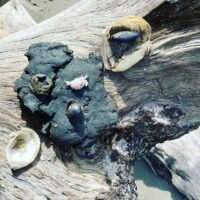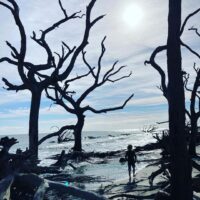 Where We Explored
A short bike ride from the campground sits Clam Creek and the Jekyll Island Fishing Pier, great for crabbing and fishing, accessing the beach, and even booking a horseback ride on the beach through Three Oaks Farm.  You can also crab on the St. Simons Island Pier.  
A short bike ride from the campground sits the highlight of Driftwood Beach, dotted with huge pieces of artistic driftwood logs and weather-downed trees. You'll find an assortment of crabs, sand dollars, shells, and egg cases to investigate.  
Kids will deepen their love for marine life and, specifically, sea turtles at the Georgia Sea Turtle Center, a turtle rescue, rehabilitation, and education center.  
Visiting in December is doubly fun. Not only do you enjoy fewer bugs, but you might also catch Holly Jolly Jekyll, an event that includes a drivable light show, a parade, fireworks, and an outdoor Christmas movie.  
History is on display at the Fort Frederica National Monument on St. Simons Island, which offers an insight into the Gullah Geechee Cultural Heritage Trail that you can follow up the coast into South Carolina.  
An hour south of Jekyll is the town of St. Mary's, GA on the very southern tip of the state. From there, you can catch a ferry to Cumberland Island National Seashore, Georgia's largest barrier island, which is a permit-required island only accessible by boat. There are no cars, though taking bikes can help you explore more of the island. There are old mansions, untouched beaches and marshes, endless wildlife (including a pack of feral horses), birding, history, and rustic camping. Experiencing Cumberland Island is truly a special experience.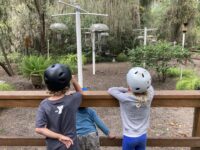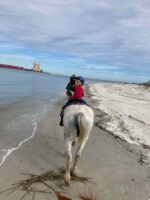 What We Consumed
If you love a good breakfast, Sweet Mama's has the best bacon biscuits (yep, just a homemade biscuit piled very high with bacon) and pork pops.
Porch will offer you your fill of Nashville Hot Chicken. Southern Soul BBQ will fill you up on southern barbecue. And Georgia Sea Grill is an excellent spot for – you guessed it – seafood.
Celebrate local beer at Barrier Island Brewing and other Georgia breweries like Creature Comforts, Fall Line Brewing, and Omaha Brewing Company.  
If you find yourself exploring the mainland, the port town of Brunswick, you must check out Reid's Apothecary for a slightly-nicer-than-the-normal-RV-trip-with-kids meal.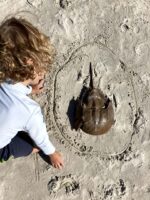 What We Read
Gift from the Sea by Anne Morrow Lindbergh – great for any trip to the beach.
The Burgess Seashore Book for Children which offers delightful story-telling that explores seashore animals. The kids can listen at night and wake up the next day to meet your time on the beach with new facts about the animals they come across.  
You can't help but to be calmed by the oaks and Spanish moss of these islands.  Herman Hesse's Wandering: Notes and Sketches is a nice companion for not only taking in the trees, but also feeding your potential wandering, restless, explorer soul.  
Next Time
The Igbo Landing Historic Place is the site of an uprising in 1803 when enslaved Igbo people of Nigeria overtook their captors, refusing to submit to slavery.  
Author Molly Moore, her husband, Joe, and their four young kids have been traveling in their 2019 30' Airstream since July 2020, attempting to let go, spend time in wild places, and instill a strong foundation of Leaving No Trace, while picking up the trail of their LEGO blocks left at campsites across the entire country. She tells her family's story at their blog, The Moore Air, which recounts their adventures and discoveries from remote parks to big cities, all while growing up and slowing down in tight quarters…together. You can also catch them on Instagram @the_moore_air. Read earlier installments of the series, "Together in the Chrysallis" here.